Random Interests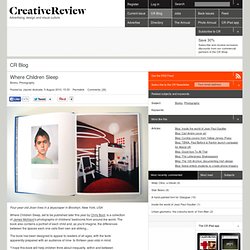 Four-year-old Jivan lives in a skyscraper in Brooklyn, New York, USA Where Children Sleep, set to be published later this year by Chris Boot, is a collection of James Mollison's photographs of childrens' bedrooms from around the world. The book also contains a portrait of each child and, as you'd imagine, the differences between the spaces each one calls their own are striking... The book has been designed to appeal to readers of all ages, with the texts apparently prepared with an audience of nine- to thirteen-year-olds in mind. "I hope this book will help children think about inequality, within and between societies around the world," says Mollison in his introduction, "and perhaps start to figure out how, in their own lives, they may respond." Here are a few examples from this really interesting and thought provoking book:
Where Children Sleep
(CBS) - Sometimes we watch a video online and it inspires us to dance or sing or ride a bike or... well, the list is pretty much infinite. This beautiful video will almost surely make you want to paint (or do something creative).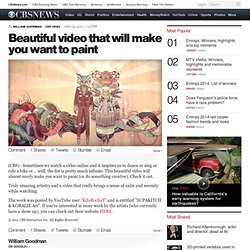 Beautiful video that will make you want to paint - The Feed
Fascinating Lamps by Calabarte | Pondly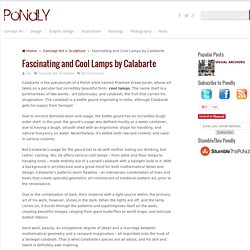 Article by Lily I'm a French full time student and a part-time blogger. I like Pondly because it allows me to share what I find on the Internet, for everyone to see. Calabarte is an artist from Poland. He sculpts elaborated patterns on gourds which come from Senegal.
Knowledge economy: Global best school buildings
Hi, it's Mandi from Making Nice in the Midwest. When my husband and I first moved into our ranch home two years ago, we weren't quite sure how to fill out the long living room space, but we were sure we wanted some extra storage for our modest collection of books. After quite some time of living with this empty corner of the living room, I decided the perfect solution for the space was to build an adjustable shelving system that could eventually be lengthened into a workspace.
A Beautiful Mess: DIY Projects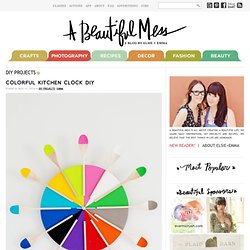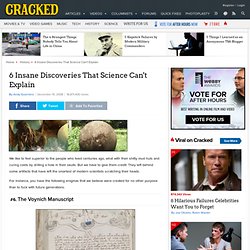 We like to feel superior to the people who lived centuries ago, what with their shitty mud huts and curing colds by drilling a hole in their skulls. But we have to give them credit: They left behind some artifacts that have left the smartest of modern scientists scratching their heads. For instance, you have the following enigmas that we believe were created for no other purpose than to fuck with future generations. The Voynich Manuscript
6 Insane Discoveries That Science Can't Explain
World's Most Advanced Crowd Simulator Predicts How People React In Emergencies | Fast Company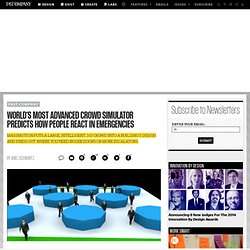 Humans react in a seemingly irrational manner during emergency evacuations; sometimes, people even get trampled in the process. But what if architects and developers could predict how large crowds might move through their buildings in the event of an emergency--and then tweak the designs to ensure that everything runs smoothly? That's the premise of MassMotion, a crowd simulator that allows users to view hundreds of thousands of simulated 3-D people moving through urban environments (i.e. train stations and airports), all by programming each individual with a distinct personality and agenda. MassMotion isn't the first crowd simulator, but it is the only one that can predict movements of unique 3-D individuals in a fully 3-D environment.
Where Children Sleep: A Diverse World of Homes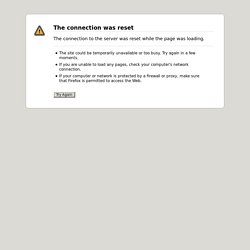 When photographer James Mollison was asked to do a project on children's rights, he found himself thinking back to his childhood bedroom and the deep importance it played in his upbringing. Taking that idea with him around the world, he photographed a diverse cross section of children and the bedrooms they call home. His moving images remove the children from their home environment, showing them before a neutral background that mostly hides their economic status as if to say "kids are just kids." Only when their bedroom is observed, however, does the full scope of their living situation become poiniently clear. Where Children Sleep, a beautiful hardcover book featuring 112 color photographs is now available from chrisboot.com.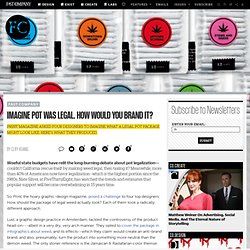 Imagine Pot Was Legal. How Would You Brand It?
Woeful state budgets have relit the long-burning debate about pot legalization---couldn't California rescue itself by making weed legal, then taxing it?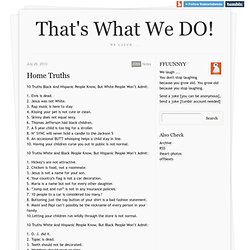 10 Truths Black And Hispanic People Know, But White People Won't Admit: 1. Elvis is dead. 2. Jesus was not White. 3. Rap music is here to stay 4. Kissing your pet is not cute or clean. 5.
Facts
25 Things Kids Today Will Never Have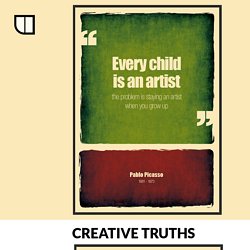 Creative Truths
Creative Truths Nice series called Creative Truths by Shirley-Ann Dick. 28th of September 2010 Probably Related
Various quotations | #222
This Awesome Urn Will Turn You into a Tree After You Die | Design for Good
You don't find many designers working in the funeral business thinking about more creative ways for you to leave this world (and maybe they should be). However, the product designer Gerard Moline has combined the romantic notion of life after death with an eco solution to the dirty business of the actual, you know, transition.
LAB | Mathieu Badimon WEBSITE
Funnel Design Group
Atlantis Worlds Fair
Wonderwall
Difference Between Kids and Adults
Makes Me Think - Top Stories - Today's Thought-Provoking Life Stories
Today, I had slept in and was late going to school. On a note I wrote my reason for being late as "busy fighting crime" and I drew the Batman symbol under it. My mom laughed, signed it, and dropped me off to school. When I got to school I signed in at the attendance office, and gave my note to the secretary.
Life is pretty normal today
The Most Brilliantly Obnoxious Responses To Moronic Graffiti
Inspiration Gallery #173 – Various quotations
Life Hacks
Various quotations | #318
how-women-and-men-see-colors.jpg (JPEG Image, 500x526 pixels)
LED light spray 'halo' by aissa logerot
Bowl Packer Model Number A: Rube Goldberg ピタゴラスイッチ Psychedelic Association Machine
Bottle
The most amazing beat box video ever!!! 4 minutes hip hop history by Eklips... - StumbleUpon
Kid calls 911 for help with math homework
The WTF moment of a reporter
Paper CD case
Jizzle - The Whitest Kids U'Know on IFC
How to make stealth beer cans
Paper transformers
The most inspirational video you will ever see Nick Vujicic
Interesting Laugh - Funny Pictures | Funny Videos - I suppose I'd be jumpy too.
Tunebot - Music Search
Jukesy - music player powered by youtube and last.fm
Celebrities Who Look Like Historical People Pictures
Trick Photography with Album Covers
elevator.jpg (JPEG Image, 543x467 pixels)
Images
Popular Art Prints
Dwight Schrute Knows Best
This is America
Time Zone Map
INDEKX - Newspapers and Magazines on the Internet
V and Co how to: jersey knit bracelet - StumbleUpon