DE-SIGN
[CG Textures] - Textures for 3D, graphic design and Photoshop! Архитектура России. Industrial design courses ? designboom. ArchDaily | Broadcasting Architecture Worldwide. Cool Hunting. Europaconcorsi.
Stylish Barn Architecture Modern House Design Ideas - Home Design Ideas | Decorating | Gardening. With barn structured building with louvered skin, this modern house built massive with dramatic agricultural views.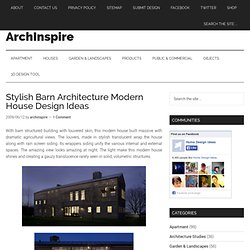 The louvers, made in stylish translucent wrap the house along with rain screen siding. Its wrappers siding unify the various internal and external spaces. Dezeen architecture and design magazine. Material Systems Organization. Material Explorer. Unrealised Moscow.
---