Manga
Fairy Tail Announcement Posted Dec 28th, 2013 by Jinn In this week's chapter there's a color page with anime announcement stuff on it. I asked vox to give us a short summary of what's on it to share with all of you, so here you go: Hello everyone!
Manga Stream - Read free manga online!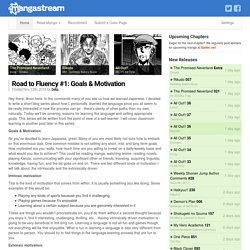 Lecture en ligne - Manga - Manwha - Manhua
Manga Fox: Read Free Manga Online!
AnimeA - Read Manga Online | Naruto 496 | Fairy Tail 185 | Sense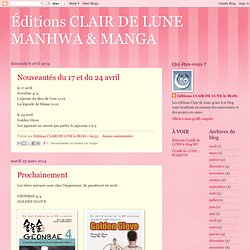 Éditions CLAIR DE LUNE MANHWA
Nouvelles séries, nouvelle programmation des sorties : - d'abord des séries courtes - publication de tous les tomes d'une même série en même temps, aucun temps d'attente entre les tomes de cette manière. - et pour respecter les mois de parution, une personne en plus à la pao. En janvier vous découvrirez donc : - Le comte des pirates en 2 tomes - Le dragon qui rêvait de crépuscule en 2 tomes pour info l'adaptation française de ces 2 séries est quasiment achevée, les fichiers partent chez l'imprimeur la semaine prochaine. En Mars : - Le 5ème tome de non non Biyori - Les enfants qui poursuivent les étoiles en 3 tomes En Avril : - j'ai la faculté de les voir, 2 tomes de petites histoires qui font peur. En Mai : - Le 6ème tome de Non non Biyori (nous aurons rattrapé la parution japonaise) - Le chat d'Albarose -Nightwalker- en 3 tomes Voilà le programme manga du premier semestre 2014, les prochaines nouveautés avec nous l'espérons le Tome 10 final de Kandachime pour la rentrée fin août 2014.
Jenova-Project [JPF] - lecture en ligne de mangas