Agences Digitales
Malinea Conseil : Evénements - Malinea Conseil
MoodiMoovi - Bio
market-intelligence
[DESCARGAR] To Tweet or Not To Tweet , estudio realizado por El Observatorio Social Media de Izo que analiza la presencia en Twitter de 75 grandes compañías españolas y cómo se relacionan con sus clientes. Incluye además una útil infografía, que hace que la información sea mucho más atractiva. Según el estudio: 1. Twitter es ya una realidad tanto a nivel de consumidores como de marcas.
accueil - Carat
.....:::::::: LIMELIGHT CONSULTING ::::::::.....
En 2011, groupeReflect devient Emakina en France et accompli son ancrage européen. groupeReflect consolide son leadership sur le web participatif grâce à son entrée dans Emakina Group dont l'agence devient l'entité française.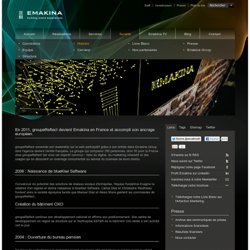 ADN - Histoire - Marketing Interactif et Relationnel - Mesures Marketing - groupeReflect :: Emakina Group
planning-strategique, le Journal