Seeds &Supplies
Gurney's Seed and Nursery
Native Seeds/SEARCH The NS/S Seedbank houses (for future generations) the seeds of crops and wild plants traditionally used as food, fiber and dyes by prehistoric and more recent cultures inhabiting the arid southwestern U.S. and northwestern Mexico. More than 2,000 different seeds are offered, representing traditional crops grown by Apache, Chemehuevi, Cocopah, Gila River Pima, Guarijio, Havasupai, Hopi, Maricopa, Mayo, Mojave, Mountain Pima, Navajo, Paiute, Puebloan, Tarahumara, Tohono O'odham and Yaqui farmers. More than a half of the offerings are corn, bean, and squash (aka the three sisters). They also have some seed assortments and they offer products other than seeds (on their website), such as dried beans, posole, salsas, chiles, etc. They have some interesting links to other sites, as well.
Fork & Bottle: Seed Sources - Organic, Biodynamic, Heirloom & Heritage Seed Sources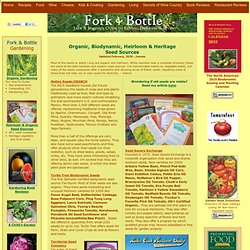 Nursery and Garden Center - Seattle - Welcome to West Seattle Nursery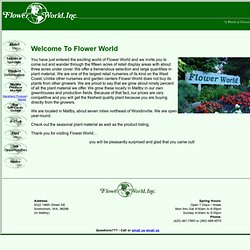 Flower World
You have just entered the exciting world of Flower World and we invite you to come out and wander through the fifteen acres of retail display areas with about three acres under cover. We offer a tremendous selection and large quantities in plant material. We are one of the largest retail nurseries of its kind on the West Coast. Unlike other nurseries and garden centers Flower World does not buy its plants from other growers. We are proud to say that we grow about ninety percent of all the plant material we offer. We grow these locally in Maltby in our own greenhouses and production fields.
Molbak's Garden + Home - Woodinville, Washington - Molbak's
Swansons Nursery | Seattle's Favorite Garden Center | Growing greater Seattle gardeners since 1924
Windmill Gardens - Seattle Gardener, Tacoma Flowers, Puget Sound Floral Design, Garden Tulips, Garden Thymes, Christmas Wreath
The goal at Windmill Gardens is to make everyone's special day at the nursery a perfect one. We invite you to take advantage of everything our nursery and village has to offer: Stroll through the garden then dine on the patio at the Windmill Bistro Inhale the aromas of fresh loose leaf teas at the Tea Madame tea shop. Learn how to create your dream fountain or pond at the Pond Store.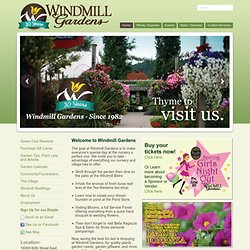 A potting bench is a workstation, a decoration, an opportunity to get something started, and the ability to keep a gardening project going without dragging materials in and out of sheds and garages. A good potters bench will add to the visual appeal of your backyard or garden while you keep your green thumbs busy. A potting table or gardening bench from PottingBenches.com lets you work upright and at a level that's comfortable to you. If we've done our job, you'll hardly want to call it "work" anymore.
Potting Benches