Seeds &Supplies
Burpee Seeds and Plants - Home Garden, Vegetable Seeds, Annual Flowers at Burpee. Gurney's Seed and Nursery. Seed Savers Exchange. Seeds of Change Homepage. Fork & Bottle: Seed Sources - Organic, Biodynamic, Heirloom & Heritage Seed Sources. Native Seeds/SEARCH The NS/S Seedbank houses (for future generations) the seeds of crops and wild plants traditionally used as food, fiber and dyes by prehistoric and more recent cultures inhabiting the arid southwestern U.S. and northwestern Mexico.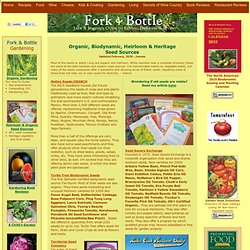 More than 2,000 different seeds are offered, representing traditional crops grown by Apache, Chemehuevi, Cocopah, Gila River Pima, Guarijio, Havasupai, Hopi, Maricopa, Mayo, Mojave, Mountain Pima, Navajo, Paiute, Puebloan, Tarahumara, Tohono O'odham and Yaqui farmers. More than a half of the offerings are corn, bean, and squash (aka the three sisters). They also have some seed assortments and they offer products other than seeds (on their website), such as dried beans, posole, salsas, chiles, etc. They have some interesting links to other sites, as well.
Baker Creek Heirloom Seeds - 1400 heirloom garden seeds! Territorial Seed - Vegetable Seed, Flower Seed, and Herb Seed at Territorial Seed Company. Nursery and Garden Center - Seattle - Welcome to West Seattle Nursery.
Flower World. Molbak's Garden + Home - Woodinville, Washington - Molbak's. Swansons Nursery | Seattle's Favorite Garden Center | Growing greater Seattle gardeners since 1924. Windmill Gardens - Seattle Gardener, Tacoma Flowers, Puget Sound Floral Design, Garden Tulips, Garden Thymes, Christmas Wreath. Potting Benches. Like a fantastic hybrid of some very useful furniture pieces from the sideboard to the baker's rack to the kitchen island, the potting bench is built for function.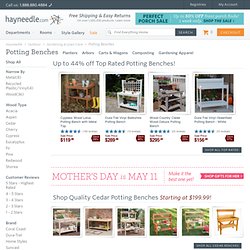 Think of it as an extra helper in the backyard. When the time comes to pot new flowers, or prune your bonsai trees, a potting bench makes the job more comfortable. Wide work surfaces are brought to your level so you can forget about having to squat in the dirt. Shelves keep pots handy, hooks hold your tools, and shelves keep potting soil in easy reach. The more features on the potting bench, the more helpful it will be in your gardening tasks. Companion Planting - Secrets of Organic Gardening.
---