Genealogy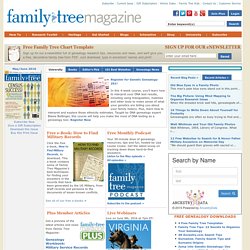 101 Best Genealogy Websites 2013 Our 2013 roundup of the 101 Best Websites for genealogy offers rays of research hope with new sites plus perennial favorites sporting new features and records. You know that a family website can help you share your genealogy research and connect with distant cousins—but do tech jargon, coding and technical aspects intimidate you? Here's the solution! In this one-week workshop, you'll learn how to use free website-building tools and services that make the job so easy you can do it in just seven days—even if you're no tech whiz. - See more at: http://www.familytreeuniversity.com/make-a-free-family-website-in-one-week#sthash.eWHCvYnq.dpuf
Family Tree Magazine - The Leading Family History Magazine
Rock Island County Illinois Genealogy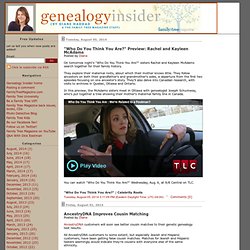 Genealogy Insider
Military Genealogy Tips for Memorial Day: Finding Pension Records Posted by Diane Honor your military ancestors this Memorial Day by learning more about their lives and service. One way is through pension records, which can be rich with information about the person who served. Various laws made those who served in the armed forces between 1775 and 1916, or their survivors, eligible for military pensions. You can search some indexes to pensions at sites such as Ancestry.com , Fold3 , FamilySearch.org , MyHeritage and findmypast .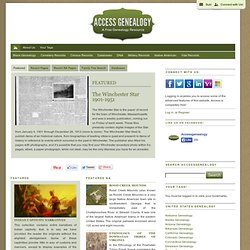 Featured NA Rood Creek Mounds Rood Creek Mounds (also known as Roods Creek Mounds) is a very large Native American town site in southwestern Georgia that is immediately east of the Chattahoochee River in Stewart County. It was one of the largest Native American towns in the eastern United States. The original palisade enclosed about 120 acres and eight mounds. Ethnology of the Powhatan Tribes of Virginia
usgenet.org
Kentucky Vital Records Index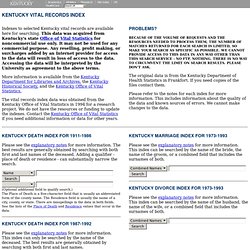 Indexes to selected Kentucky vital records are available here for searching. This data was acquired from Kentucky's state Office of Vital Statistics for noncommercial use only. It may not be used for any commercial purpose. Any reselling, profit making, or surcharges added by an Internet provider for access to the data will result in loss of access to the data. Accessing the data will be interpreted by the University as agreement to the above terms.
Genealogy Insider - 75 Best State Websites Now Available Online
France Genealogy Links | French genealogie | over 180 links
France Genealogy - French Genealogy - French Ancestry
National Library of France Libraries on the Web - France sunsite.berkeley.edu Repositories of Prime Resources - France UIdaho.edu - Special Collections Archives départementales des Alpes de Haute-Provence Departmental records of the Alps of High-Provence Archives Départementales des Côtes d'Armor Departmental records of the Coasts of Armor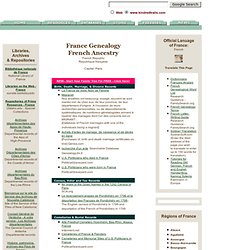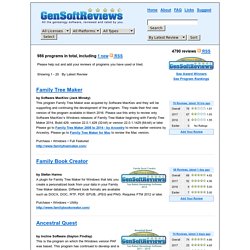 by Chris Whitten The Worldwide Family Tree Wiki. Unlike many wikis the content is not completely open and public. Copyrights are kept by the contributors. Content is kept private through a unique "Trusted List" system that enables you to select the individuals you want to collaborate with and the specific content you want to share with them. This flexible system means everyone can be on one worldwide family tree but privacy isn't sacrificed.
Genealogy Software Reviews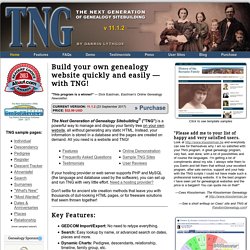 "This program is a winner!" — Dick Eastman, Eastman's Online Genealogy Newsletter. (Read the story here!)
The Next Generation of Genealogy Sitebuilding ("TNG")
Canada's first census was initiated by Intendant Jean Talon in 1666 in New France (present day Quebec). The census counted the colony's 3,215 inhabitants and recorded their age, sex, marital status and occupation. Before 1871 (Canada's first national census) there were 98 colonial and regional censuses.
AllCensusRecords.com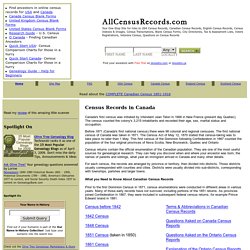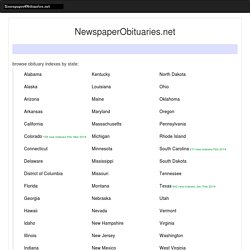 Newspaper Obituaries are a rich source of information for family historians. Obituaries are mini biographies that form a memorial tribute to a person's life. One key to searching successfully for obituaries is to have correct information about your ancestor's death. The death certificate forms the foundation for a successful obituary lookup. If you do not already have one, contact details for obtaining death certificates for each state are at vitalrecordsonline.net
South Dakota Gravestone Photos
Genealogists