Genealogy
Family Tree Magazine - The Leading Family History Magazine
Rock Island County Illinois Genealogy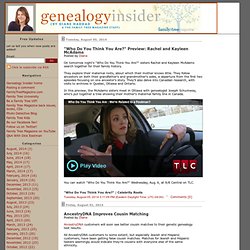 Genealogy Insider
Military Genealogy Tips for Memorial Day: Finding Pension Records Posted by Diane Honor your military ancestors this Memorial Day by learning more about their lives and service. One way is through pension records, which can be rich with information about the person who served. Various laws made those who served in the armed forces between 1775 and 1916, or their survivors, eligible for military pensions. You can search some indexes to pensions at sites such as Ancestry.com , Fold3 , FamilySearch.org , MyHeritage and findmypast .
usgenet.org
Kentucky Vital Records Index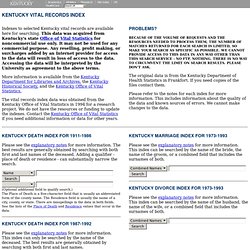 Indexes to selected Kentucky vital records are available here for searching. This data was acquired from Kentucky's state Office of Vital Statistics for noncommercial use only. It may not be used for any commercial purpose. Any reselling, profit making, or surcharges added by an Internet provider for access to the data will result in loss of access to the data. Accessing the data will be interpreted by the University as agreement to the above terms.
Genealogy Insider - 75 Best State Websites Now Available Online
France Genealogy Links | French genealogie | over 180 links
France Genealogy - French Genealogy - French Ancestry
National Library of France Libraries on the Web - France sunsite.berkeley.edu Repositories of Prime Resources - France UIdaho.edu - Special Collections Archives départementales des Alpes de Haute-Provence Departmental records of the Alps of High-Provence Archives Départementales des Côtes d'Armor Departmental records of the Coasts of Armor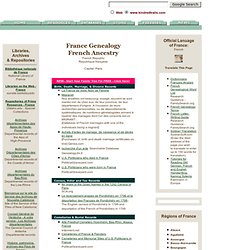 Genealogy Software Reviews
The Next Generation of Genealogy Sitebuilding ("TNG")
Canada's first census was initiated by Intendant Jean Talon in 1666 in New France (present day Quebec). The census counted the colony's 3,215 inhabitants and recorded their age, sex, marital status and occupation. Before 1871 (Canada's first national census) there were 98 colonial and regional censuses.
AllCensusRecords.com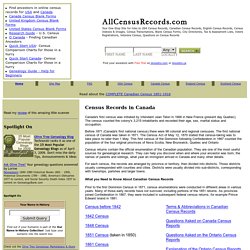 South Dakota Gravestone Photos
Genealogists