Plugin
DownThemAll! Firebug :: Firefox Add-ons. Top 20 Wordpress Plugins for Power Users » MakeUseOf.com. Finally something for wordpress folks, my all-time favorite, carefully-selected, top 20 wordpress plugins.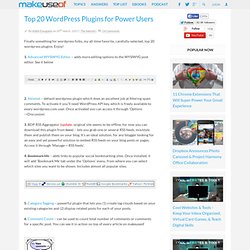 Enjoy! 1. Advanced WYSIWYG Editor – adds more editing options to the WYSIWYG post editor. See it below. Top 16 'Firefox Extensions' Links ever published » MakeUseOf.com. Extensions is my favorite part about firefox.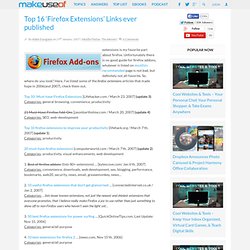 Unfortunately there is no good guide for firefox addons, whatever is listed on mozilla's recommended page is not bad, but definitely not all-favorite. So, where do you look? Here, I've listed some of the firefox extensions articles that made hype in 2006(and 2007), check them out.
---