Plugin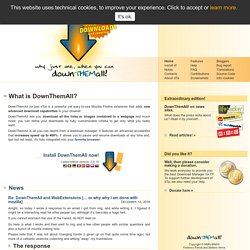 DownThemall! 3.0b5, which is the fifth preview release of the upcoming Version 3.0, was just released. It is indented for users willing to cope with bleeding edge software and reporting issues back to us. This new release is the result of a couple of years of development, and lately focused on taking advantage of recent mozilla technologies, incl. restartless add-ons, asynchronous I/O to make things snappy and better platform integration.
The Development Channel lets you test an experimental new version of this add-on before it's released to the general public. Once you install the development version, you will continue to get updates from this channel. To stop receiving development updates, reinstall the default version from the link above.
Finally something for wordpress folks, my all-time favorite, carefully-selected, top 20 wordpress plugins. Enjoy! 1. Advanced WYSIWYG Editor – adds more editing options to the WYSIWYG post editor. See it below
Top 20 Wordpress Plugins for Power Users » MakeUseOf.com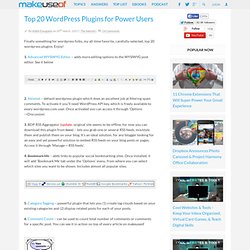 extensions is my favorite part about firefox. Unfortunately there is no good guide for firefox addons, whatever is listed on mozilla's recommended page is not bad, but definitely not all-favorite. So, where do you look? Here, I've listed some of the firefox extensions articles that made hype in 2006(and 2007), check them out.
Top 16 'Firefox Extensions' Links ever published » MakeUseOf.com