Music
Iamusic.com | Partially Free Music Library. FindSounds - Search the Web for Sounds. "Partners in Rhyme" Free Soundeffects. From the sound of rain hitting a tin roof to the bustling metropolis in a not too distant future, sound effects and incidental effects are hugely important whether used in audio or visual applications such as music tracks, console games, movies, short films and/or documentaries following a range of different categories and genres.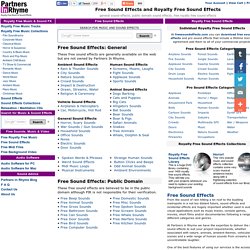 At Partners in Rhyme we have the expertise to deliver the ideal sound effects to suit your project requirements, whether associated with nature, animals, ambient themes, vehicular scenes and a wide range of human sounds from screams to uncontrollable laughter. One of the best features of using our services is the access we grant you to a massive and diverse selection of hugely popular free sound effects, allowing those on a budget complete their audio/visual projects easily.
With a dedicated assortment of Royalty free sound effects available in one place, we create the perfect solution to suit your requirements. 3D Models, Plugins, Textures, and more at Turbo Squid. Createvity103 Free Video & Sounds.
---