Malware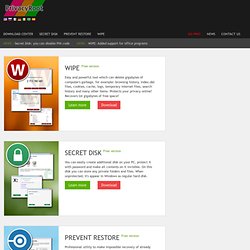 Prevent Restore Program to prevent recovery of deleted files and folders. Includes several security algorithms, which makes process the most effective. The program also works with removable storage.
Free Privacy Software (ENGLISH)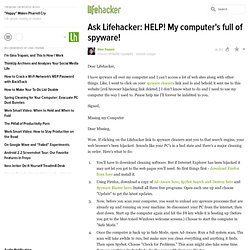 Dear Lifehacker, I have spyware all over my computer and I can't access a lot of web sites along with other things. Like, I went to click on your spyware cleaners link and lo and behold it sent me to this website [evil browser hijacking link deleted.] I don't know what to do and I need to use my computer the way I used to.
Ask Lifehacker: HELP! My computer's full of spyware! - Lifehacker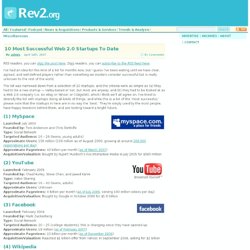 I've had an idea for this kind of a list for months now, but I guess I've been waiting until we have clear, agreed, and well-defined players rather than something we insiders consider successful but is really unknown to the rest of the world. The list was narrowed down from a selection of 20 startups, and the criteria were as simple as (a) they had to be a new startup — Valley-based or not, but most are anyway, and (b) they had to be looked at as a Web 2.0 company (i.e. no eBay or Yahoo! or Craigslist), which I think we'll all agree on. I've tried to diversify the list with startups doing all kinds of things, and while this is a list of the 'most successful,' please note that the startups in here are in no way the 'best.'
10 Most Successful Web 2.0 Startups To Date - rev2.org
Found+READ
Spyware Terminator - Spyware & Adware Real-Time Protection
Includes Antivirus Protection Bank, shop and download securely Get daily updates against threats