Fax
Here are twelve quick desk organization tips . These are things that have worked well for me and help me maintain an organized desk (most of the time). Most of them are probably applicable to others as well. If you have any desk organization tip suggestions of items to add please add them to the comments.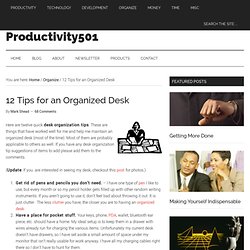 12 Tips for an Organized Desk
Not much of a paper chase for Microsoft's chairman, who uses a range of digital tools to do business. Bill Gates, chairman and chief software architect, Microsoft, U.S.A. NEW YORK (FORTUNE) - It's pretty incredible to look back 30 years to when Microsoft ( Research ) was starting and realize how work has been transformed. We're finally getting close to what I call the digital workstyle. If you look at this office, there isn't much paper in it. On my desk I have three screens, synchronized to form a single desktop.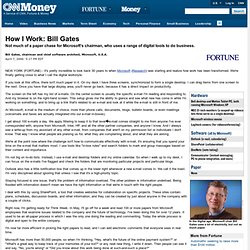 How I Work: Bill Gates - Apr. 7, 2006