Drive
Thumbdrive. 7 Interesting and Useful Things to do with your USB Pen Drive. If you've got a USB Pen Drive, you can use it for a variety of things, that includes adding portable apps and lots more.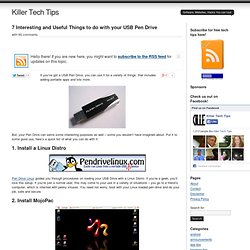 But, your Pen Drive can serve some interesting purposes as well – some you wouldn't have imagined about. Put it to some good use, here's a quick list of what you can do with it: 1. Install a Linux Distro. - Download Portable Freeware. App-Stick Free Portable Applications. Tech Support Favourites. » 55 Portable Apps for Making a USB Super Stick » USB Powered Gadgets and more.. Update: This post has been amazing and generated a lot of interest.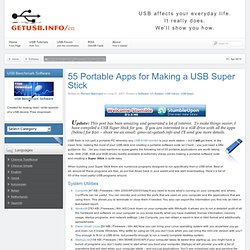 To make things easier, I have compiled a USB Super Stick for you. If you are interested in a 1GB drive with all the apps [below] for $20 – shoot me an email: gmo<at> Top 10: LH Top 10: USB thumb drive tricks - Lifehacker. Geek to Live: Automatically back up your hard drive - Lifehacker. The Portable Freeware Collection.
---