Drive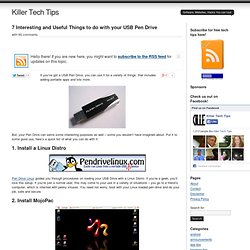 If you've got a USB Pen Drive, you can use it for a variety of things, that includes adding portable apps and lots more. But, your Pen Drive can serve some interesting purposes as well – some you wouldn't have imagined about. Put it to some good use, here's a quick list of what you can do with it: 1. Install a Linux Distro
7 Interesting and Useful Things to do with your USB Pen Drive
- Download Portable Freeware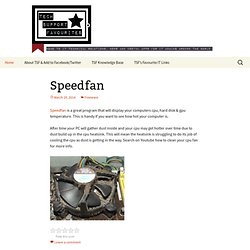 Tech Support Favourites
Speedfan is a great program that will display your computers cpu, hard disk & gpu temperature. This is handy if you want to see how hot your computer is. After time your PC will gather dust inside and your cpu may get hotter over time due to dust build up in the cpu heatsink. This will mean the heatsink is struggling to do its job of cooling the cpu as dust is getting in the way. Search on Youtube how to clean your cpu fan for more info.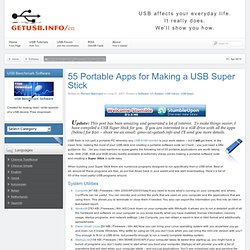 Update: This post has been amazing and generated a lot of interest. To make things easier, I have compiled a USB Super Stick for you. If you are interested in a 1GB drive with all the apps [below] for $20 – shoot me an email: gmo<at>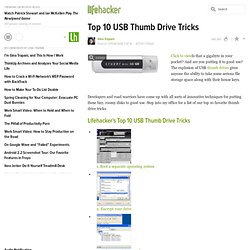 Top 10: LH Top 10: USB thumb drive tricks - Lifehacker
I know I'm coming into this topic a bit late but I love having cross platform programs on my flash drive so I know what I have when I sit at any computer. Here are some of my most common uses of my 2G Cruzer Titanium: 1. Trillian Pro to go!
MicroSIP allows high quality VoIP calls via the open Session Initiation Protocol to other SIP-compatible phones or regular telephones. The program is easy to configure and light on system resources, and supports video, instant messaging, secure connections (via client-to-client TLS encryption), and standards compatibility. This SIP softphone is based on the Windows PJSIP stack. For regular phones, the program requires an account with a (non-free) SIP Provider.