Components
DevKick | Web Development for Designers. Foobar2000 Blog » Components. Components Column UI As a temporary measure this comprehensive component list has been taken from the Foobar Wiki page under the GNU Free Documentation license.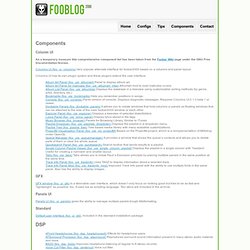 Columns UI (foo_ui_columns) Very popular alternate interface for foobar2000 based on a columns and panel layout. Columns UI has its own plugin system and these plugins extend the user interface: Foobar2000 3rd party components. Foo_prettypop for foobar2000. Foo_prettypop for foobar2000 News 12/5/2009: 1.2.5 released.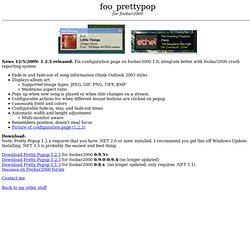 Fix configuration page on foobar2000 1.0; integrate better with foobar2000 crash reporting system. Foobar2000:Playlist Tree - WikiBowron. Foobar2000 3rd party components. Foobar2000 Scheduler (foo_scheduler) Fooblog2000 (a Foobar2000 resource) Foobar2000.
---