Components
Galleria has been serving top-quality image galleries to millions of web sites during the last years. We coulnd't be happier with all the positive response we recieved. Now, we are about to launch the next generation gallery service that makes it even easier for anyone to create, administrate and publish beautiful image galleries on any web site. We call it Galleria Display.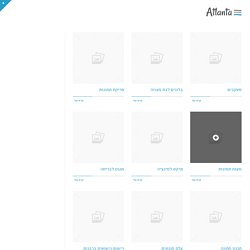 DevKick | Web Development for Designers
Components Column UI As a temporary measure this comprehensive component list has been taken from the Foobar Wiki page under the GNU Free Documentation license. Columns UI (foo_ui_columns) Very popular alternate interface for foobar2000 based on a columns and panel layout. Columns UI has its own plugin system and these plugins extend the user interface: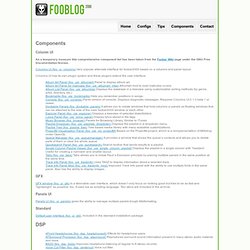 Foobar2000 Blog » Components
foobar2000 3rd party components
foo_prettypop for foobar2000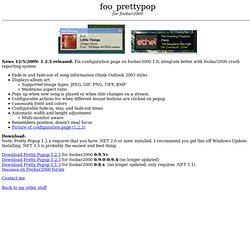 foo_prettypop for foobar2000 News 12/5/2009: 1.2.5 released. Fix configuration page on foobar2000 1.0; integrate better with foobar2000 crash reporting system
Foobar2000:Playlist Tree - WikiBowron
foobar2000 3rd party components
foobar2000 Scheduler (foo_scheduler)
Here we go, I finally think that this version is ready for release – I had planned to launch this on June 1st – glad I didn't make that known to anyone at the time. I have been hard at work making changes, the big new additions are out of the box support for Lyrics (I finally caved on this one – the component used is included in the package), full transparency support, library filter support and the Theme and Background selectors. All component and font requirements are listed when you first open the configuration, an installation display will show what you do not have installed and shall provide a click-able link to download it. FofR V0.9 needs PanelsUI Version 13.7+ Version 0.9 Menu Buttons: Buttons Now Consistent across all tabs, "Song Info" button removed, just click the text area on theNow Playing section instead to close/hide the box.
Fooblog2000 (a Foobar2000 resource)
foobar2000 is an advanced freeware audio player for the Windows platform. Latest news First, a big thank you to everyone who supported the foobar2000 mobile project so far. The foobar2000 mobile entry has been removed from kickstarter.com due to low popularity - only about 0.1% of the visitors actually supporting the project rather than the 1% we were hoping for; at this rate, donations made via kickstarter.com would never reach us as the lowest goal would not be hit. You can still support the project via our page directly - mobile.foobar2000.com. In case the lowest goal isn't met, we'll still try to deliver a product that satisfies all of those who did support us; just with fewer features than we were originally hoping to.