Activism
Let's put up a wall!
millionsoulsaware.org - Refugee camps worldwide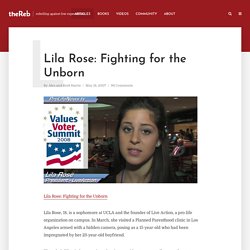 News Published on May 16th, 2007 | by Alex and Brett Harris Lila Rose, 18, is a sophomore at UCLA and the founder of Live Action, a pro-life organization on campus. In March, she visited a Planned Parenthood clinic in Los Angeles armed with a hidden camera, posing as a 15-year-old who had been impregnated by her 23-year-old boyfriend.
The Rebelution: Lila Rose: Fighting for the Unborn
Internet for Everyone | Help define the future of the Internet in America.