Activism
The U.S. broadcast television industry is in the midst of a wave of consolidation, which one longtime industry insider described as "the biggest wave ... in the history of television." Corporations are exploiting loopholes in the Federal Communications Commission's ownership rules to snap up TV stations across the country. And if the FCC doesn't act, the damage will be irreversible. To learn more, read the new Free Press report, Cease to Resist: How the FCC's Failure to Enforce Its Rules Created a New Wave of Media Consolidation.
Let's put up a wall!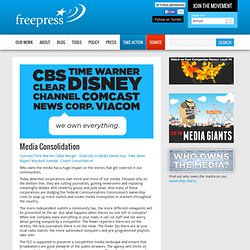 millionsoulsaware.org - Refugee camps worldwide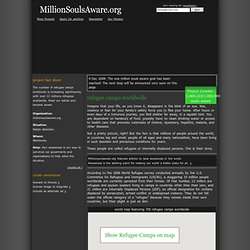 Project Counter: 1,065,123/1,000,000 souls aware 9 Dec 2008: The one million souls aware goal has been reached! The next step will be announced very soon on this page. Imagine that your life, as you know it, disappears in the blink of an eye. War, violence or fear for your family's safety force you to flee your home. After hours or even days of a torturous journey, you find shelter far away, in a squalid tent.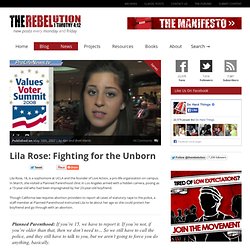 News Published on May 16th, 2007 | by Alex and Brett Harris Lila Rose, 18, is a sophomore at UCLA and the founder of Live Action, a pro-life organization on campus. In March, she visited a Planned Parenthood clinic in Los Angeles armed with a hidden camera, posing as a 15-year-old who had been impregnated by her 23-year-old boyfriend. Though California law requires abortion providers to report all cases of statutory rape to the police, a staff member at Planned Parenthood instructed Lila to lie about her age so she could protect her boyfriend and go through with an abortion. Planned Parenthood: If you're 15, we have to report it.
The Rebelution: Lila Rose: Fighting for the Unborn
Internet for Everyone | Help define the future of the Internet in America.