Game Strats
supcomresearch
Youtube League of Legends Channels
Counter Logic Gaming on Justin
Fortifying the Fortress (an extensive TF2 improvement list)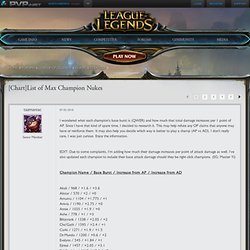 I wondered what each champion's base burst is (QWER) and how much that total damage increases per 1 point of AP. Since I have that kind of spare time, I decided to research it. This may help refute any OP claims that anyone may have or reinforce them. It may also help you decide which way is better to play a champ (AP vs AD). I don't really care, I was just curious. Enjoy the information.
[Chart]List of Max Champion Nukes
There's been a lot of discussion surrounding the "Heartbleed" SSL security bug that impacted a lot of websites (this video does a good job of explaining the details). We dug into every League of Legends system and we're happy to report that no player information was exposed to this bug. However, some players use their League of Legends login information on other websites and, because of how widespread the Heartbleed bug is, their accounts may still be vulnerable.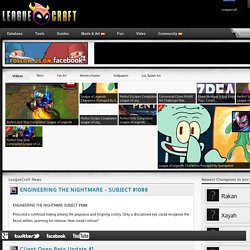 Team Fortress 2 Lobby