VJ Software and Mapping 3D Tutorial
VJ Software Listings
10 Best Software VJ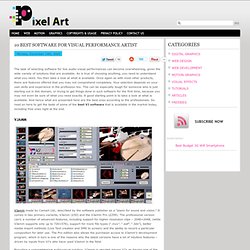 10 Best Software for Visual Performance Artist The task of selecting software for live audio-visual performances can become overwhelming, given the wide variety of solutions that are available. As is true of choosing anything, you need to understand what you need. You then take a look at what is available.
free vj mixing software
This is a list of software for Vjing
VjingIt: List software Vj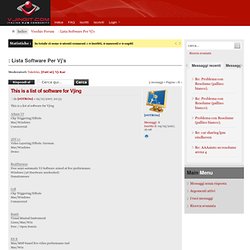 VJ Software Comparison
PIXnMIX VJ Info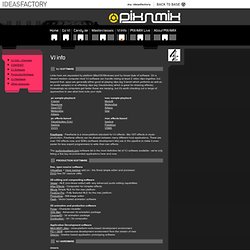 mixers Edirol V4 , V1 , LVS-400 Korg KrossFour Panasonic MX50 (out of production), MX30 (out of production) MX20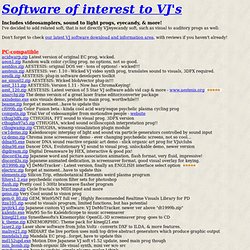 VJ Tools
Software of interest to VJ's Includes videosamplers, sound to light progs, eyecandy, & more! I've decided to add related soft, that is not directly VJ/eyecandy soft, such as visual to auditory progs as well:
P V P
Figure 53 Live Show Control
QLab allows you to control audio , video , and MIDI from a single workspace. The basic version of QLab is free and provides a powerful audio playback environment. For advanced users, licenses are available to enhance the audio features, as well as to add video and MIDI functionality. Designed to make you faster. We've worked hard to create an intuitive environment for crafting your designs.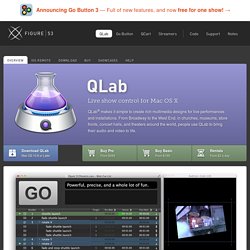 WATCHOUT - Il Surround Video
WATCHOUT di Dataton è un sistema digitale per presentazioni multimediali ad elevato impatto visivo, su superfici multi-schermo. Offre una risoluzione ed una qualità mai raggiunte fino ad ora su questo tipo di applicazioni. E' possibile inserire, all'interno di WATCHOUT , filmati HD (High Definition), presentazioni in Power Point con effetti e transizioni, animazioni in formato flash e acquisizioni video in tempo reale.
Isadora
VIDVOX
FLxER
Modul8 is software designed from A to Z for performance and real time video. It has been adopted by hundreds of users looking for a tool that is extremely responsive, flexible and easy-to-use. Used in domains as diverse as veejaying , contemporary art , live performances , theater and video production this software has proven its worthiness in hundreds of projects around the globe by an incredibly active user community.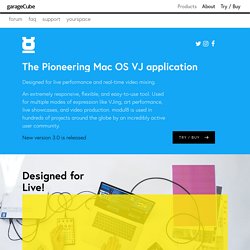 Max: Cycling 74
Collega e Crea Max ti dà gli strumenti per creare suoni unici, grafica e video stupefacenti, interazioni multimediali affascinanti. Questi strumenti si chiamano 'objects' (oggetti): piccoli elementi grafici programmati per svolgere un compito specifico.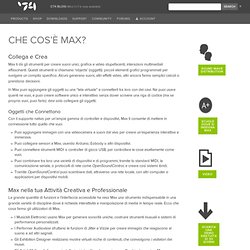 Max (Wikipedia)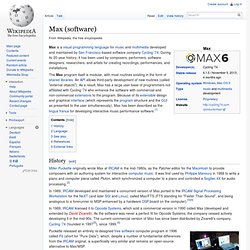 Max is a visual programming language for music and multimedia developed and maintained by San Francisco -based software company Cycling '74 .
Livid Instruments
CoGe Software
MadMapper tutorial : use multiple video inputs « 1024 Architecture Blog / MadMapper, Video Mapping, Quartz Composer plugins, whatever …
Hi, in this tutorial we'll use Modul8 to input multiple video sources in MadMapper. You can download the MadMapper demo here: MadMapper website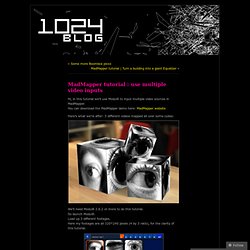 Hi, in this tutorial, we'll use After Effects to produce a QuickTime movie that we will remap on a building.
Wild MadMapper test « 1024 Architecture Blog / MadMapper, Video Mapping, Quartz Composer plugins, whatever …
IR Mapio
Welcome to YouTube! The location filter shows you popular videos from the selected country or region on lists like Most Viewed and in search results.To change your location filter, please use the links in the footer at the bottom of the page. Click "OK" to accept this setting, or click "Cancel" to set your location filter to "Worldwide".
Il canale di black0sire
Russian | French | Italian This article provides a manual approach to solving problems related to the following topics: Projecting on 3D Geometry Texturing real Architecture via Projections Projection/Video Mapping Undistoring Projections Augmented Reality Camera Matching/Resectioning/Calibration Pose Estimation Note that due to the manual nature of the described approach your results will not be perfect, but can be quite good depending on your patience. Introduction All the above mentioned topics deal with the same problem: Find the pose (position, orientation) of an object or the pose and lens characteristics (field of view, shift) of a camera viewing that object. In cinematography with 3d visual effects the terms "match moving" or "camera tracking" are used to describe the problem of matching a real world scene with its virtual counterpart in order to mix them together seamlessly.
hcgilje.com
Scroll down for download links.
VPT 6 video tutorials « Conversations with spaces
VPT 6 (Video Projection Tools) tutorials
VPT 5 (Video Projection Tools) tutorials
VPT 4 (Video Projection Tools) tutorials
videoprojectiontool (tutorial VPT)