VJ Software and Mapping 3D Tutorial
VJ Software Listings. 10 Best Software VJ. 10 Best Software for Visual Performance Artist The task of selecting software for live audio-visual performances can become overwhelming, given the wide variety of solutions that are available.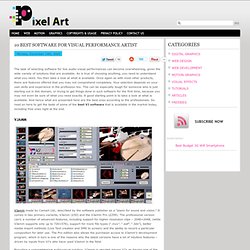 As is true of choosing anything, you need to understand what you need. You then take a look at what is available. Free vj mixing software. Software VJ. VjingIt: List software Vj. This is a list of software for Vjing Arkaos VJClip Triggering/EffectsMac/WindowsCommercial 3DJ 1.1Video Layering/Effects.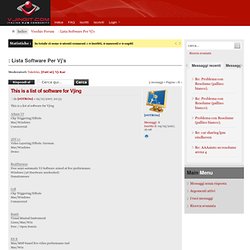 German.Mac/WindowsDemo BeatHarnessFree semi-automatic VJ Software aimed at live performance.Windows (3d Hardware accelerated)Donationware. VJ Software Comparison. PIXnMIX VJ Info. Mixers Edirol V4, V1, LVS-400 Korg KrossFour Panasonic MX50 (out of production), MX30 (out of production) MX20 Allen + Heath Xone 9:2 - DJ mixer with MIDI output which can control edirol video mixers for AV mixing. players Pioneer DVJ-X1 - Worlds first DVD scratching deck.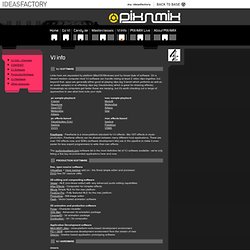 Pioneer DVD-V7300D - Advanced professional DVD player with computer control interface. VJ Tools. Software of interest to VJ's Includes videosamplers, sound to light progs, eyecandy, & more!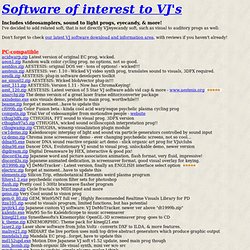 I've decided to add related soft, that is not directly VJ/eyecandy soft, such as visual to auditory progs as well: WATCHOUT | www.dataton.com. WATCHOUT is wowing visitors with the world's largest high definition video wall at Suntec, Singapore.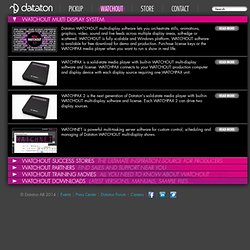 The Big Picture, the 60 metre wide, 15 metre tall display located inside the main entrance at Suntec is the proud recipient of the Guinness World Records title as the 'Largest High Definition Video Wall'. A WATCHOUT system manages the dazzling and dynamic content. Expo 2012 Yeosu, Korea, was the biggest single-site project of the year with WATCHOUT employed in numerous pavilions and events. P V P. What is ProVideoPlayer™?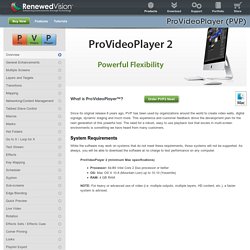 Order PVP2 Now! Since its original release 8 years ago, PVP has been used by organizations around the world to create video walls, digital signage, dynamic staging and much more. This experience and customer feedback drove the development plan for the next generation of this powerful tool. The need for a robust, easy to use playback tool that excels in multi-screen environments is something we have heard from many customers. ** Note: All purchases of PVP from June, 2013 will receive full dollar for dollar credit towards the purchase of a ProVideoPlayer 2 license. Figure 53 Live Show Control.
Amazingly deep, surprisingly easy.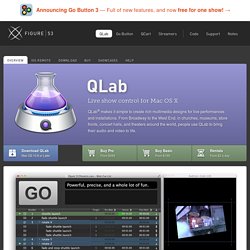 Using building blocks called "cues", you can create sophisticated designs in seconds. Getting started is as simple as dragging in a file and pressing "GO". From there, add commands to fade volume, animate videos, or add audio and video effects. Once you master the basics, become a power user with advanced features like scripting, video corner pinning, multi-projector edge blending, audio localization, or even building multi-computer designs by sending commands to other QLab machines on your local network. WATCHOUT - Il Surround Video. WATCHOUT di Dataton è un sistema digitale per presentazioni multimediali ad elevato impatto visivo, su superfici multi-schermo.
Offre una risoluzione ed una qualità mai raggiunte fino ad ora su questo tipo di applicazioni. E' possibile inserire, all'interno di WATCHOUT, filmati HD (High Definition), presentazioni in Power Point con effetti e transizioni, animazioni in formato flash e acquisizioni video in tempo reale. Isadora. Syphon. ArKaos. Resolume. VIDVOX. FLxER. Modul8. Millumin. Max: Cycling 74. Collega e Crea Max ti dà gli strumenti per creare suoni unici, grafica e video stupefacenti, interazioni multimediali affascinanti.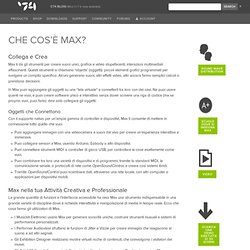 Questi strumenti si chiamano 'objects' (oggetti): piccoli elementi grafici programmati per svolgere un compito specifico. Max (Wikipedia) Max is a visual programming language for music and multimedia developed and maintained by San Francisco-based software company Cycling '74.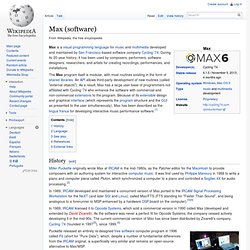 During its 20-year history, it has been used by composers, performers, software designers, researchers, and artists for creating recordings, performances, and installations. The Max program itself is modular, with most routines existing in the form of shared libraries. An API allows third-party development of new routines (called "external objects"). Livid Instruments. CoGe Software. MadMapper.
MadMapper tutorial : use multiple video inputs « 1024 Architecture Blog / MadMapper, Video Mapping, Quartz Composer plugins, whatever … Hi, in this tutorial we'll use Modul8 to input multiple video sources in MadMapper. You can download the MadMapper demo here: MadMapper website Here's what we're after: 3 different videos mapped all over some cubes: We'll need Modul8 2.6.2 or more to do this tutorial. So launch Modul8. Load up 3 different footages. Mapping a building | After Effects + MadMapper tutorial « 1024 Architecture Blog / MadMapper, Video Mapping, Quartz Composer plugins, whatever …
Hi, in this tutorial, we'll use After Effects to produce a QuickTime movie that we will remap on a building. We'll also need Photoshop to adjust our initial pictures. The effect we're after is a Glowing-Scan of the building. The technique is rather simple, but it illustrates the process to achieve a photo-based architectural mapping.
This tutorial assumes that you know the basics of Adobe Photoshop + After Effects and MadMapper. Wild MadMapper test « 1024 Architecture Blog / MadMapper, Video Mapping, Quartz Composer plugins, whatever … Il canale di black0sire. Upload visution.com Subscription preferences. Vvvv. How To Project On 3D Geometry. Russian | French | Italian Note that due to the manual nature of the described approach your results will not be perfect, but can be quite good depending on your patience. Introduction All the above mentioned topics deal with the same problem: Find the pose (position, orientation) of an object or the pose and lens characteristics (field of view, shift) of a camera viewing that object.
In cinematography with 3d visual effects the terms "match moving" or "camera tracking" are used to describe the problem of matching a real world scene with its virtual counterpart in order to mix them together seamlessly. For this task a list of software exists (boujou, 3d equalizer, ...) that makes the live of visual effects people easier. Syphon. Hcgilje.com. VPT 6.0. VPT 7, a projection powerpack. VPT (VideoProjectionTool) is a free multipurpose realtime projection software tool for Mac and Windows created by HC Gilje. Among other things it can be used for projecting video on complex forms, adapt a projection to a particular space/surface, combine recorded and live footage, for multiscreen HD playback, for interactive installations using arduino sensors or camera tracking ++ VPT has become a popular tool for theatre and installation use, but is also used by VJs.
The previous version,VPT 6, was downloaded over 20000 times. VPT 6 video tutorials « Conversations with spaces. VPT 6 (Video Projection Tools) tutorials. VPT 5 (Video Projection Tools) tutorials. VPT 4 (Video Projection Tools) tutorials. Videoprojectiontool (tutorial VPT)
---