CONVERSAO
Our online video converter is able to convert videos from YouTube into MP3, AAC, M4A, OGG, WMA, MP4, 3GP, AVI, FLV, MPG and WMV files. This service is completely free, works fast and there is no registration needed, so we don't need any private information about you. You can find the terms and conditions of this website here. 1) Choose a video on YouTube and copy the video URL. 2) Paste the video URL into our converter. Choose a format (standard MP3) and press the convert button.
YouTube to MP3 Converter - music-clips.net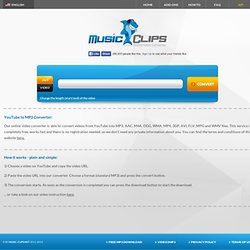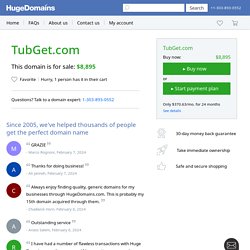 Download videos from YouTube to MP4 and Vimeo to MP3 formats. Tubget is a free YouTube video download website. Convert YouTube video as MP4 free. Download and convert videos from YouTube, Vimeo, Metacafe and many other video sharing websites as MP3.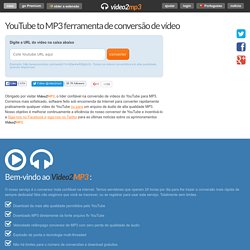 Conversor do YouTube para mp3
O nosso serviço é o conversor mais confiável na internet. Temos servidores que operam 24 horas por dia para lhe trazer a conversão mais rápida de sempre dedicada! Nós não exigimos que você se inscrever, ou se registrar para usar este serviço. Totalmente sem limites. Download da mais alta qualidade permitidos pelo YouTubeDownloads MP3 diretamente da fonte arquivo flv YouTubeVelocidade relâmpago conversor de MP3 com zero perda de qualidade de áudioExplosão de ponta e tecnologia multi-threadedNão há limites para o número de conversões e download gratuitos
PDFAmigo: Create interactive, fillable PDF forms in your browser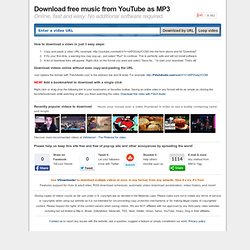 This is not a valid video URL. Are you sure it should work? Can you view the video directly without any proxies? Please e-mail us! How to download a video in just 3 easy steps:
Media Convert - gratuita - Converter audio, telefone, música, te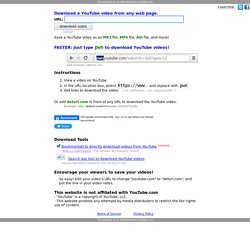 Download a YouTube video from any web page. Save a YouTube video as an MP3 file, iPod file, FLV file, MP4 file, AVI file, and more! Support for DailyMotion, Facebook, Break, MetaCafe, FunnyOrDie, Vimeo, and some adult sites. More sites added soon. FASTER: Just type pwn to download YouTube videos!
Convert media files online from one format into another. Please select the target format below: This free online file converter lets you convert media easy and fast from one format to another. We support a lot of different source formats, just try. If you can't find the conversion you need, please let us know and write us an e-mail.