templates
Get flash to fully experience Pearltrees
All templates are XHTML 1.0 and CSS2.
All layouts use valid markup and CSS, and have been tested successfully on Internet Explorer/win 5.0, 5.5, 6 and beta 2 preview of version 7; Opera 8.5, Firefox 1.5 and Safari 2. Each of the columns could be the longest, and for testing columns length I've used the script filler text on demand . Each layout could represent a site with five main sections: header, content, navigation, other stuff and footer. The basic markup, common to every layout, is the following: <div id="container"> <div id="header">Header</div> <div id="wrapper"> <div id="content">Content</div> </div> <div id="navigation">Navigation</div> <div id="extra">Extra stuff</div> <div id="footer">Footer</div> </div> It's almost minimal, apart from an extra wrapper around the content.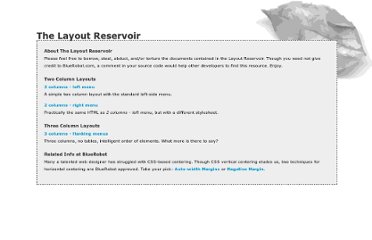 About The Layout Reservoir Please feel free to borrow, steal, abduct, and/or torture the documents contained in the Layout Reservoir. Though you need not give credit to BlueRobot.com, a comment in your source code would help other developers to find this resource. Enjoy. Two Column Layouts 2 columns - left menu
By using our site, you consent to this privacy policy: This website allows third-party advertising companies for the purpose of reporting website traffic, statistics, advertisements, "click-throughs" and/or other activities to use Cookies and /or Web Beacons and other monitoring technologies to serve ads and to compile anonymous statistics about you when you visit this website.
Starter kits are great timesavers for web designers and they are particularly useful for those who often create mock-ups for project pitching on daily basis. If you are a designer-cum-programmer think of it as your code snippets So what's in a starter kit?