Pics
Get_Out.jpg (619×470) Wrong Wrong Wrong! Random funny pictures. 90-Day Ticker. Forums -> Guide: Pickup.listchecker :: Warcraft Iii Tft. Dan bday present. My Funny Pictures: 100 Acre Drug Use. Gadgets. LEGO tetris space invader. ForHeavensCakes.com. Funny (and so true!) graphs. Smack Nightclub - LED Room on Vimeo. Lesson 15 - Family Movies. Vista Upgrade Prank. Download Now - Like this software?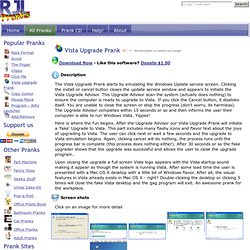 Donate $1.00 Description The Vista Upgrade Prank starts by emulating the Windows Update service screen. Trade Xbox 360 Console Games www.SwitchPlanet.com. First - CollegeHumor video. Luciferous Logolepsy - U. Playing Game: Hardest Game. Reshot.. Finalflight. Mtg dragon. What I remember most about LEGOs. DXD - Index. Moo.fx - size does matter. Triforcefail.jpg [45322] | Newfags Cant Triforce | Know... Meet the sloths on Vimeo. Cute Baby Laughing ADORABLE. + New .COMs $7.99/yr plus 18 cents/yr ICANN fee.
Discount based on new one-year registration prices as of 1/27/2012 with sale price reflected in your shopping cart at checkout. Discount applies to new registrations and renewals and cannot be used in conjunction with any other offer or promotion.
---