Mint
S'more Cookie Bars. These were a huge hit!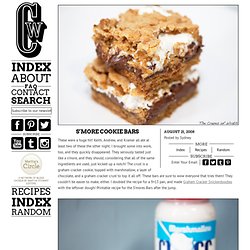 Keith, Andrew, and Kramer all ate at least two of these the other night. I brought some into work, too, and they quickly disappeared. They seriously tasted just like a s'more, and they should, considering that all of the same ingredients are used, just kicked up a notch! The crust is a graham cracker cookie, topped with marshmallow, a layer of chocolate, and a graham cracker crust to top it all off.
These bars are sure to wow everyone that tries them! Thin mints. Thin Mints I really don't think you can top a Girl Scout Thin Mint cookie straight from the freezer.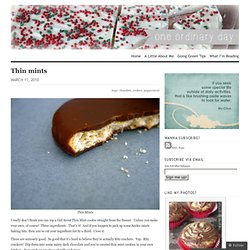 Unless you make your own, of course! Three ingredients. That's it! The Last Chocolate Chip Banana Bread Recipe You'll Ever Need – It Takes a Little Heat. Bananas aren't a fruit that typically excites the senses or moves people in a profound way, if in any way at all.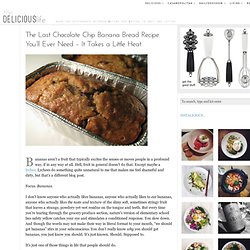 Hell, fruit in general doesn't do that. Except maybe a lychee. Makes » recipe: ice cream cake (but not like you think) If you've been following along, you're probably aware that I collect cookbooks.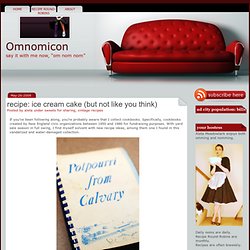 Specifically, cookbooks created by New England civic organizations between 1950 and 1980 for fundraising purposes. With yard sale season in full swing, I find myself solvent with new recipe ideas, among them one I found in this vandalized and water-damaged collection. The picture on the cover somewhat suggests the architecture of Calvary Baptist Church in Easthampton, but I bought the book in Millbury and it has no date (I've never been to that Church, I just tried to do some due diligence in my googling). Nevertheless, it *does* include a chocolate cake recipe with a secret ingredient: ice cream.
---