Menu
CSS-only Menus. Chrome CSS Drop Down Menu. Updated: Oct 29th, 08 to v2.5, which adds ability to customize reveal animation speed, plus IE8 beta2 compatibility.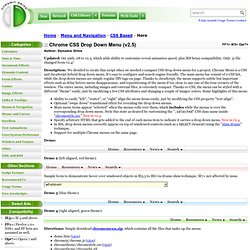 Only .js file changed from v2.4! Description: We decided to create this script when we needed a compact CSS drop down menu for a project. Chrome Menu is a CSS and JavaScript hybrid drop down menu. Slice Your web graphic properly. Tip: Check Your works at least on three most popular browsers.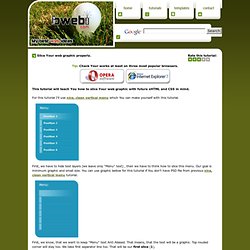 This tutorial will teach You how to slice Your web graphic with future xHTML and CSS in mind. For this tutorial I'll use nice, clean vertical menu which You can make yourself with this tutorial. CSS Menu Generator. MAC Green Template. CSS3 Border Radius Example CSS Border Radius CSS3 border radius parameter is a basic concept with vast possibilities.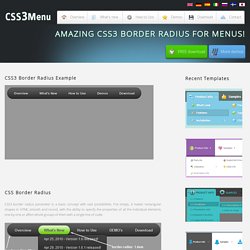 Put simply, it makes rectangular shapes in HTML smooth and round, with the ability to specify the properties of all the individual elements one by one or affect whole groups of them with a single line of code. It had been quite the news ever since first versions of CSS3 were rolled out, and became one of the most discussed new features in CSS. Browsers had been launching versions with partial support of CSS3 border radius in 2011 and today most of them have mastered the trade of displaying rounded corners with the widest variety of additional settings. 20 Useful CSS3 Menu and Navigation Tutorials | AEXT.NET... Although CSS3 has not been supported by some browsers yet and many people are unenthusiastic to use it, many other people have enjoyed using it with its features to create many fabulous stuffs.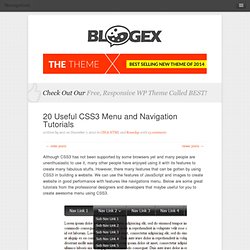 However, there many features that can be gotten by using CSS3 in building a website. We can use the features of JavaScript and images to create website in good performance with features like navigations menu. Below are some great tutorials from the professional designers and developers that maybe useful for you to create awesome menu using CSS3.