Ibm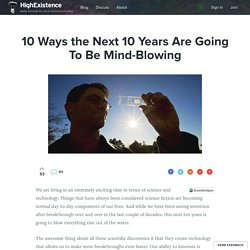 We are living in an extremely exciting time in terms of science and technology. Things that have always been considered science fiction are becoming normal day-to-day components of our lives. And while we have been seeing invention after breakthrough over and over in the last couple of decades, this next ten years is going to blow everything else out of the water. The awesome thing about all these scientific discoveries it that they create technology that allows us to make more breakthroughs even faster. Our ability to innovate is increasing exponentially as the years go by.
Simplify Ajax development with jQuery
What's jQuery? Created by John Resig in early 2006, jQuery is a great library for anyone who works with JavaScript code. Whether you're new to the JavaScript language and want a library to address some of the complexities of Document Object Model (DOM) scripting and Ajax or you're an advanced JavaScript guru and tired of the boring repetition involved with DOM scripting and Ajax, jQuery will suit you well. jQuery helps you keep your code simple and succinct. You no longer have to write a bunch of repetitious loops and DOM scripting library calls.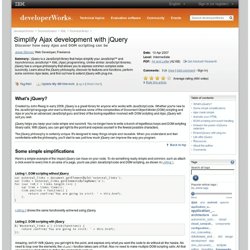 As if Gmail wasn't powerful enough, you can find all sorts of goodies and extra features in Gmail Labs . The list is pretty massive, so we've narrowed down our 10 favorite labs to help increase your email productivity. Title image by Ben Krebs . We've actually gone through our 10 favorite labs before , back when Labs was a bit younger. Now, many of those features are part of Gmail itself, so we've decided to revisit the labs and see what else Gmail has cooked up.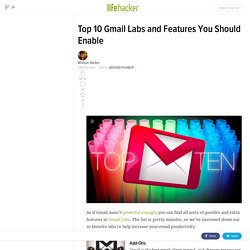 Working with jQuery, Part 1: Bringing desktop applications to the browser
Introduction jQuery has distanced itself from other JavaScript library options to become the library of choice for Web developers and is fast becoming the first choice for programmers looking to ease their client-side development and create Rich Internet Applications (RIA) quickly and efficiently. As the use of RIA becomes ever-more prevalent in the world, the use of JavaScript libraries to assist in their development will continue to increase as well. RIAs are defined (loosely) as applications run through the browser that use a combination of CSS/JavaScript/Ajax to create the appearance of working on a desktop application. The latest features being added to recent releases of Firefox, Internet Explorer, Safari, and the recent release of Google's new Chrome browser, are focused on beefing up the speed of each browser's internal JavaScript engine for the sole purpose of making it more conducive to the type of RIAs that the browser makers picture us using in the near future.