Home/Living
Party. Pumpkin. Ciabatta. Mint. Garlic Knots – For Superior Garlic Breath. When I was in High School, I thought garlic knots were the best things on earth.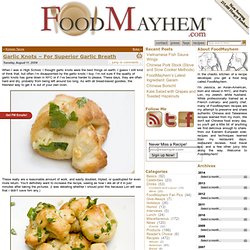 I guess I still kind of think that, but often I'm disappointed by the garlic knots I buy. I'm not sure if the quality of garlic knots has gone down in NYC or if I've become harder to please. These days, they are often hard and dry, probably from being left around too long. As with all bread-based goodies, the freshest way to get it is out of your own oven. These really are a reasonable amount of work, and easily doubled, tripled, or quadrupled for even more return. Homemade Pop-Tarts. When I was a kid, I loved Pop-Tarts.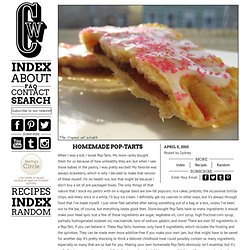 My mom rarely bought them for us because of how unhealthy they are, but when I saw those babies in the pantry, I was pretty excited! My favorite was always strawberry, which is why I decided to make that version of these myself. I'm no health nut, but that might be because I don't buy a lot of pre-packaged foods. Epicurious.com: Recipes, Menus, Cooking Articles & Food Guides. Baking & Dessert Recipes & Pictures - Joyofbaking.com *Fully Tested Recipes* Are there any other websites like chatroulette. Tinychat is a 100% free, no downloads or signup required website that lets you easily video chat with others.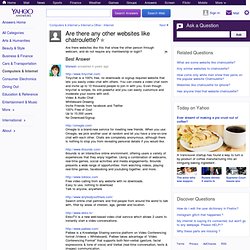 You can create a video chat room and invite up to 10 thousand people to join in with you. Even though tinychat is simple, its still powerful and you can easily customize and moderate your rooms with skill. Cute Baby Laughing ADORABLE. Bacon Recipes | Foodily. A confirmation message was sent to [email address] .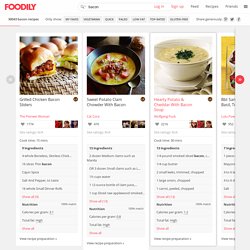 If you like this recipe, your friends will want to know! Connect to Facebook and see what your friends like too. BakeSpace.com - Recipe Swap and Food Social Network. IndianaTokers Ultimate Cannabis Recipes. All credit for the following recipes goes to The Cannabis Companion: The Ultimate Guide to Connoisseurship by Steven Wishnia.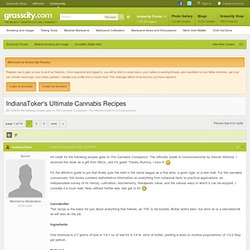 I received this book as a gift from RMJL, and it's great! Thanks Rummy, I love it! It's the difinitive guide to pot that finally puts the herb in the same league as a fine wine, a good cigar, or a rare malt. For the cannabis connoisseur, this books contains authoritative information on everything from botanical facts to practical applications: an indispensable survey of its history, cultivation, biochemistry, therapeutic value, and the various ways in which it can be enjoyed.
I consider it a must read.
---