Freeware
Tips and downloads for getting things done. Ophcrack Live CD - Crack Windows passwords in minutes. The free, open source Ophcrack Live CD is a Windows program used to crack Windows passwords.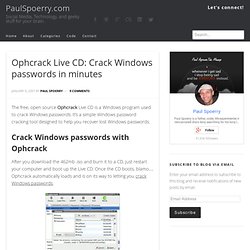 It's a simple Windows password cracking tool designed to help you recover lost Windows passwords. After you download the 462mb .iso and burn it to a CD, just restart your computer and boot up the Live CD. Roundup: 15 Must-Have Free Software Programs for Your PC. Over the last three years, the writers here at MakeUseOf have profiled thousands of software apps on the website.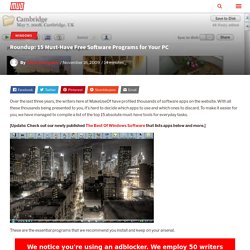 With all these thousands being presented to you, it's hard to decide which apps to use and which ones to discard. To make it easier for you, we have managed to compile a list of the top 15 absolute must-have tools for everyday tasks. [Update: Check out our newly published The Best Of Windows Software that lists apps below and more.] Oops! Google Chrome could not find www.knowliz.com. The Top 100 Internet Marketing Posts of 2009. Rating: 4.5/5 (17 votes cast) Although there is still a little bit of time before 2009 is officially over, since many of you are going to be spending a lot of time traveling and attempting to hide from you in-laws over the next couple of weeks, I thought it would be useful to provide this great reading material now.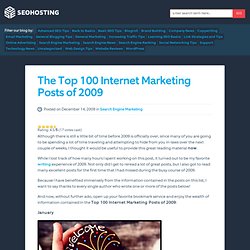 While I lost track of how many hours I spent working on this post, it turned out to be my favorite writing experience of 2009. Not only did I get to reread a lot of great posts, but I also got to read many excellent posts for the first time that I had missed during the busy course of 2009. Because I have benefited immensely from the information contained in the posts on this list, I want to say thanks to every single author who wrote one or more of the posts below! Software - What are the essential tools you always have...
How to hide files in JPEG pictures. If you're looking to hide files on your PC hard drive, you may have read about ways to encrypt folders or change the attributes on a file so that they cannot be accessed by prying eyes.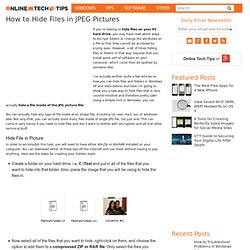 However, a lot of times hiding files or folders in that way requires that you install some sort of software on your computer, which could then be spotted by someone else. I've actually written quite a few articles on how you can hide files and folders in Windows XP and Vista before, but here I'm going to show you a new way to hide files that is very counter-intuitive and therefore pretty safe! Using a simple trick in Windows, you can actually hide a file inside of the JPG picture file!
---