CSS
Get flash to fully experience Pearltrees
Published by Chris Coyier At the risk of over-repeating myself: every element in web design is a rectangular box. This was my ah-ha moment that helped me really start to understand CSS-based web design and accomplish the layouts I wanted to accomplish. We've talked about the positioning of these boxes a bit , and about their behavior .
This post is about 5 useful CSS properties that you should be very familiar with, but will most likely rarely use. I'm not talking about the new fancy CSS3 properties. I'm referring to the old CSS2 properties such as: clip , min-height , white-space , cursor , and display that are widely supported by all browsers.
position: absolute This div is positioned absolutely with the bottom and right CSS properties set to 0. Therefore it appears in the bottom-right corner of the screen and is displayed over the other content. In the code, this div is within the #container div. Therefore, we can position it in the bottom-right corner of #container by applying the position:relative property to that div by clicking the button below. To see the "natural" position of this div set its CSS position property to static (the default for all divs) using the button below.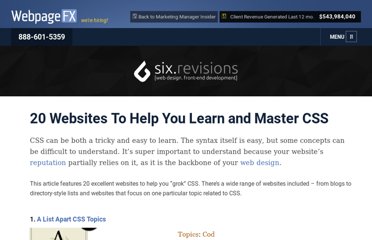 CSS can be both a tricky and easy to learn. The syntax itself is easy, but some concepts can be difficult to understand. This article features 20 excellent websites to help you "grok" CSS. There's a wide range of websites included – from blogs to directory-style lists and websites that focus on one particular topic related to CSS.
CSS ( Cascading Style Sheets) are the modern standard for presenting website. Combined with structural markup language like HTML, XHTML – CSS fully take care about presentation part, creating that good concept – HTML = Content, CSS = Presentation. If you know CSS, you can really do everything controlling spacings, borders, positioning, margins, paddings, colors, fonts, background images, hover effects and more presentational effects. CSS is really easy to understand, and in my opinion every graphic designer should have at least simple coding skills with HTML and CSS, because CSS is really still design part, not really coding. In this article, you'll have all the best resources available, which will teach you how to use CSS really effectively.