Cheatsheet
Periodic Table of the Elements - Josh Duck. Shortcuts3.jpg (JPEG Image, 2761x2325 pixels) - Scaled (25. CSS Cheat Sheet. 13 Really Useful Online CSS Tools to Streamline... CSS is nearly used on every modern website design.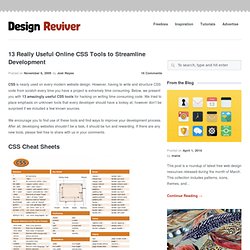 However, having to write and structure CSS code from scratch every time you have a project is extremely time consuming. Below, we present you with 13 amazingly useful CSS tools for hacking on writing time consuming code. 14 Most Useful Web Design Cheat Sheets. A well rounded web designer's day is spent immersed in multiple graphic design programs and writing front end code.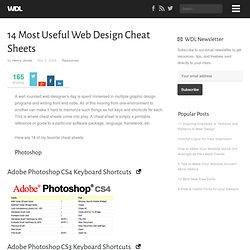 All of this moving from one environment to another can make it hard to memorize such things as hot keys and shortcuts for each. This is where cheat sheets come into play. A cheat sheet is simply a printable reference or guide to a particular software package, language, framework, etc. Here are 14 of my favorite cheat sheets. Photoshop. The Best Cheat Sheets for Web Developers | Web Resources... Cheat sheet is a reference tool that provides simple, brief instructions for accomplishing a specific task.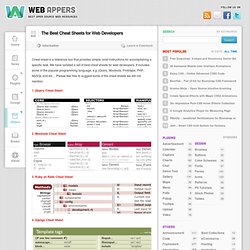 We have collated a set of best cheat sheets for web developers. It includes some of the popular programming language, e.g. jQuery, Mootools, Prototype, PHP, MySQL and etc… Please feel free to suggest some of the cheat sheets we did not mention. 1. jQuery Cheat Sheet.
---