Broad_Development
Robots.txt. W3Fools - A W3Schools Intervention. Tutorials To Build Your Own Website | Site Fundamentals. Web Developers Habook. Vitaly Friedman's The Web Developer's Handbook creativity | css galleries & showcases | color tools | color schemes, palettes | color patterns | fashion: colors selection | color theory | royalty free photos | css daily reading | web design daily reading | css layouts | css navigation menus | css techniques | css: software & Firefox Extensions | css-web-tools & services | html-web-tools & services | accessibility checkers | miscellaneous tools | ajax | javascript | DOM | fonts | typography | RSS | CMS | blogging | specifications | usability & accessibility | add a link (free) | seo tools | seo references | howtogetthingsdone | freelancers resources | web2.0 | 2read.
Design and Code Your First Website in Easy to Understand... In this tutorial, we're going to design and code our first website in simple, easy steps.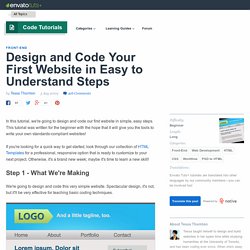 This tutorial was written for the beginner with the hope that it will give you the tools to write your own standards-compliant websites! It's a brand new week; maybe it's time to learn a new skill! Step 1 - What We're Making We're going to design and code this very simple website. Spectacular design, it's not, but it'll be very effective for teaching basic coding techniques. Codrops - design development posts code. A proof-of-concept effect recreation of the animation seen in a prototype app by Marcus Eckert.
The idea is to flip a grid item in 3D, expand it to fullscreen and reveal some associated content. We've created two demos with a vertical and a horizontal rotation. read more Some inspiration and ideas for item transitions considering different scenarios and use cases, including a small component, a full-width image header and a product image with a transparent background. State transitions are done using CSS Animations. read more. HTML & CSS Dog. HTML and CSS Tutorials, References, and Articles.
---