Houston Art stuff
About Hooks-Epstein Galleries
Founded in 1969, Hooks-Epstein Galleries, Inc., is one of Houston's longest running art galleries. Representing established, mid-career and emerging artists, the gallery pioneered the museum area while remaining in the forefront as specialists in late 19th century and 20th century representational American, European, and Latin works of art. Along with a particular emphasis on sculpture and works on paper, the gallery is also Houston's premier resource for works in the secondary market. Many of Houston's most prominent art collections include works acquired through Hooks-Epstein Galleries.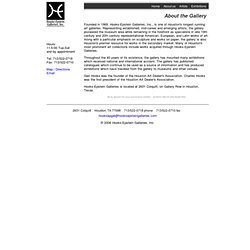 CTRL Houston - artists
About - ART PALACE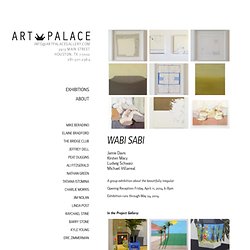 spinning under trees charlie morris Artist Talk: Saturday, Mar 23 2013, 1pm On exhibit through Saturday, Mar 30, 2013 x
Culture, when you want it.
Houston Arts Alliance - It all starts here
Art Directors Club of Houston
Contemporary Arts Museum Houston
Employment / Current Openings / View All Categories
Glasstire: Texas visual art online