Houston Art stuff
About Hooks-Epstein Galleries
Founded in 1969, Hooks-Epstein Galleries, Inc., is one of Houston's longest running art galleries. Representing established, mid-career and emerging artists, the gallery pioneered the museum area while remaining in the forefront as specialists in late 19th century and 20th century representational American, European, and Latin works of art. Along with a particular emphasis on sculpture and works on paper, the gallery is also Houston's premier resource for works in the secondary market. Many of Houston's most prominent art collections include works acquired through Hooks-Epstein Galleries.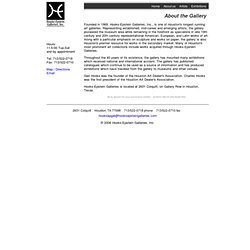 Web hosting is essential if you want to take control of your own web site. It allows you to decide what goes on your site and how your site will present itself to the world. As it is obviously such an important part of the new 'online equation' I felt it needed to be treated as such and so have dedicated my site to providing as much information as I can to help you make the best decision in choosing your web host and then to get the best out of your web hosting.
CTRL Houston - artists
About - ART PALACE
Culture, when you want it.
Houston Arts Alliance - It all starts here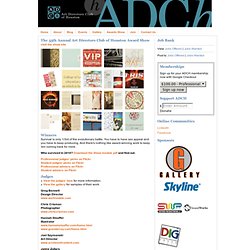 Art Directors Club of Houston
The 55th Annual Art Directors Club of Houston Award Showvisit the show site Winners Survival is only 1/3rd of the evolutionary battle. You have to have sex appeal and you have to keep producing. And there's nothing like award-winning work to keep 'em coming back for more. Who survived in 2010?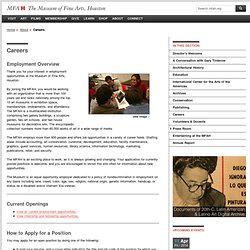 view image Thank you for your interest in employment opportunities at the Museum of Fine Arts, Houston. By joining the MFAH, you would be working with an organization that is more than 100 years old and ranks nationally among the top 10 art museums in exhibition space, memberships, endowments, and attendance.
Employment / Current Openings / View All Categories
Glasstire: Texas visual art online
Rebecca Carter: Sleep Architecture and the Dream House Andy Amato Formal fragility becomes the ethereal content of conversations past, places lived, and phenomena alternatively remembered or read.