Houston Art stuff
About Hooks-Epstein Galleries
Founded in 1969, Hooks-Epstein Galleries, Inc., is one of Houston's longest running art galleries. Representing established, mid-career and emerging artists, the gallery pioneered the museum area while remaining in the forefront as specialists in late 19th century and 20th century representational American, European, and Latin works of art. Along with a particular emphasis on sculpture and works on paper, the gallery is also Houston's premier resource for works in the secondary market. Many of Houston's most prominent art collections include works acquired through Hooks-Epstein Galleries.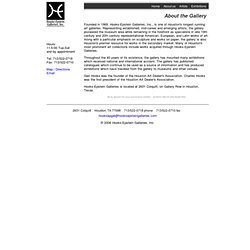 CTRL Houston - artists
About - ART PALACE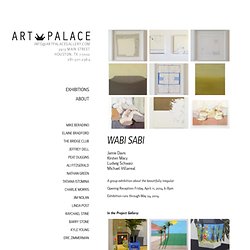 Opening Reception: Friday, November 1, 2013, 6-8pm Exhibition runs through December 21, 2013. Filled with emotional reverie and reverence, a little ways away from everywhere is an exploration of love and mourning. In Raychael Stine's first solo exhibition at Art Palace, multiple ways of image-making live together to record the shift that happens from life into death through pictorial, formal, and material painterly explorations. The work slips between traditional representation and lively, abstract physical gesture.
Culture, when you want it.
Houston Arts Alliance - It all starts here
Art Directors Club of Houston
Employment / Current Openings / View All Categories
Glasstire: Texas visual art online