Mobile apps
Emotional Interface Design: The Gateway to Passionate Users | UX Booth. We're changing.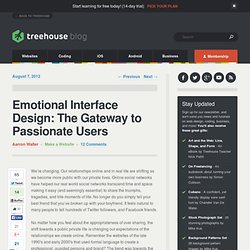 Our relationships online and in real life are shifting as we become more public with our private lives. Online social networks have helped our real world social networks transcend time and space making it easy (and seemingly essential) to share the triumphs, tragedies, and trite moments of life. Get Mental Notes. Code-Free Mobile App Prototyping « adjustafresh – user experience design | digital marketing strategy. 7 Feb, 2012 There's a lot of talk recently in the design community about the utility and value of clickable mockups & prototypes.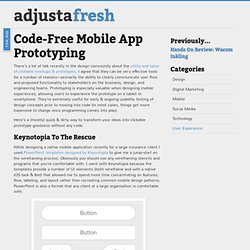 I agree that they can be very effective tools for a number of reasons—primarily the ability to clearly communicate user flow and proposed functionality to stakeholders on the business, design, and engineering teams. Prototyping is especially valuable when designing mobile experiences, allowing users to experience the prototype on a tablet or smartphone. They're extremely useful for early & ongoing usability testing of design concepts prior to moving into code (in most cases, things get more expensive to change once programming comes into play). Here's a (mostly) quick & dirty way to transform your ideas into clickable prototype goodness without any code. Focus On: Design Trends in Mobile Apps for iOS. Apple's mobile operating system has gained a huge following in just a few short years.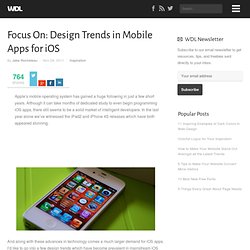 Although it can take months of dedicated study to even begin programming iOS apps, there still seems to be a solid market of intelligent developers. In the last year alone we've witnessed the iPad2 and iPhone 4S releases which have both appeared stunning. And along with these advances in technology comes a much larger demand for iOS apps. I'd like to go into a few design trends which have become prevalent in mainstream iOS interfaces. Designers have started following innovative and whimsical methods for constructing beautiful app layouts. What Is Your Mental Model? Rosenfeld Media has just released Indi Young's Mental Models: Aligning Design Strategy With Human Behavior.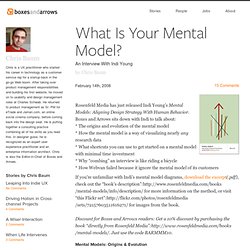 Boxes and Arrows sits down with Indi to talk about: * The origins and evolution of the mental model * How the mental model is a way of visualizing nearly any research data * What shortcuts you can use to get started on a mental model with minimal time investment * Why "combing" an interview is like riding a bicycle * How Webvan failed because it ignore the mental model of its customers If you're unfamiliar with Indi's mental model diagrams, download the excerpt(.pdf), check out the "book's description": for more information on the method, or visit "this Flickr set": for images from the book.
---