Digital Trends
Everything a Marketer Should Know About QR Codes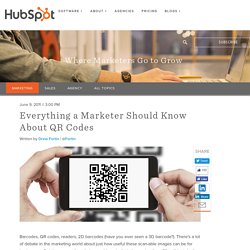 Barcodes, QR codes, readers, 2D barcodes (have you ever seen a 3D barcode?). There's a lot of debate in the marketing world about just how useful these scan-able images can be for businesses, and that debate continued on the May 13 th episode of HubSpot's Marketing Update with Karen Rubin and Mike Volpe.
The Path From A Social Brand To A Social Business
Apple Won't Buy Twitter, But Google Might
The Mac maker is on the list of firms who could/should acquire the social media empire. But Google is a much more likely candidate. Whenever a major acquisition occurs, the world scrambles to figure out which companies will be acquired next, how much they will sell for, and who will buy them. If a questionable (and currently profitless) firm like Instagram can earn $1 billion just for having 30 million users, surely Twitter — a growing social media empire with a few hundred million users — could earn several times that amount. (Read about Apple's television selling faster than the iPad here .) Regardless of the expense, Ironfire Capital's Eric Jackson thinks that Apple (NASDAQ: AAPL ) is the company that is most likely to buy Twitter.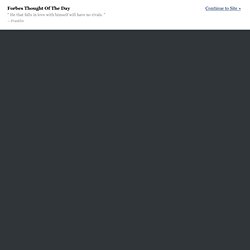 M360 Digital News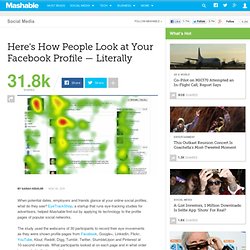 Here's How People Look at Your Facebook Profile -- Literally
When potential dates, employers and friends glance at your online social profiles, what do they see? EyeTrackShop , a startup that runs eye-tracking studies for advertisers, helped Mashable find out by applying its technology to the profile pages of popular social networks. The study used the webcams of 30 participants to record their eye movements as they were shown profile pages from Facebook , Google+, LinkedIn, Flickr, YouTube , Klout, Reddit, Digg, Tumblr, Twitter, StumbleUpon and Pinterest at 10-second intervals.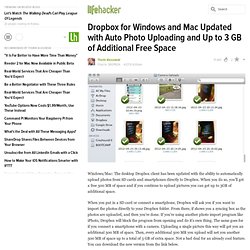 Dropbox for Windows and Mac Updated with Auto Photo Uploading and Up to 3 GB of Free Space
Windows/Mac: The desktop Dropbox client has been updated with the ability to automatically upload photos from SD cards and smartphones directly to Dropbox. When you do so, you'll get a free 500 MB of space and if you continue to upload pictures you can get up to 3GB of additional space. When you put in a SD card or connect a smartphone, Dropbox will ask you if you want to import the photos directly to your Dropbox folder. From there, if shows you a syncing box as the photos are uploaded, and then you're done. If you're using another photo import program like iPhoto, Dropbox will block the program from opening and do it's own thing.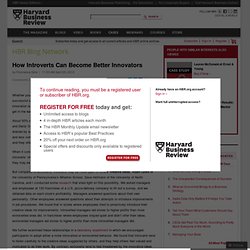 by Francesca Gino | 11:33 AM April 20, 2012 Whether you are trying to create a new product, solve problems more effectively, become the most successful company in your industry, or find creative ways to meet your customers' needs, innovation is likely one of your most critical objectives at work. But a factor often overlooked may get in the way of your expressing and implementing your excellent ideas: You are an introvert. About 50% of U.S. residents are introverts, according to a study by psychologists Stephan Dilchert and Deniz Ones. What are the signs that you are one of them? Introverts have a tendency to be drained by social encounters and energized by solitary activities.
How Introverts Can Become Better Innovators - Francesca Gino - HBS Faculty
I recently had the privilege of presenting at the GDOL Digital Talkfest in Istanbul. The focus of the event was very much in line with my current work. GDOL tracks the new generation of consumers who do everything online and the impact they now have on popular culture, society and ultimately business. I refer to this generation as Generation-C . Prior to my trip, I met with Capital Magazine for an in-depth interview. They asked some very important questions, questions that you may be pondering now.
The rise of Generation C…and what to do about it