Nanda410
María Fernanda Burbano Terneus
dale conoceme :)
Keep Drawing, Amazing Hand-Drawn Animated Short. E-Actividades para e-Learning. Brain Farm Digital Cinema | Creative Production Agency. Ëlodie, illustratrice freelance * french illustrator based in Paris. Le concours est maintenant fini !!!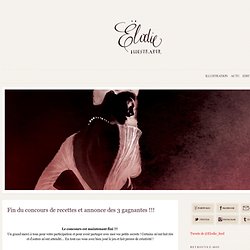 Un grand merci à tous pour votre participation et pour avoir partager avec moi vos petits secrets ! Certains m'ont fait rire et d'autres m'ont attendri... En tout cas vous avez bien joué le jeu et fait preuve de créativité ! The contest is now over ! WHATLIESBENEATH#1 | PINTURA | Juan Francisco Casas.
Juegos
Rafael Pólit - Mascotas y Animales. Rafael Pólit - Canon EF 70-200 f4L. UPS. Pearltrees videos. Getting started. Fractal World Gallery Thumbnails : cosmic recursive fractal flames orflame... - StumbleUpon. Fractal World Gallery contains a collection of Pure flame fractals, fractal flame composites, fractals, etc: established 1998 Flame Fractals date from 1998 to the Present. by Cory Ench © 2007 Images from this gallery may only be used with artist's permission Fractal software includes Frax Flame and Apophysis for cosmic recursive fractal flames.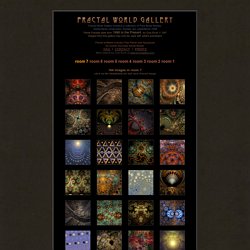 FAQ I CONTACT I PRINTS More artwork by Cory Ench at www.enchgallery.com 164 images in room 7 click on the thumbnails for full view fractal image 164 images in room 7 120 images in room 6 120 images in room 5 120 images in room 4 120 images in room 3 132 images in room 2 120 images in room 1 Other non fractal art by Cory Ench at home Thanks for viewing the Fractal World Gallery. Please go to next gallery room for more cosmic recursive flame fractals. Forked from: [BetweenAS3]uzumaki - wonderfl build flash online - StumbleUpon. Cole rise - StumbleUpon.
Take_a_smile_by_apalipis-d3albe9_large.jpg?1298930432 from whicdn.com - StumbleUpon. Crazy paper thing - StumbleUpon. Conversation Marble Magnets for Valentines Day. I'm sure these could be a lot neater or fancier by printing out the lettering on your printer, but if you are looking for something that's not only fast and easy but also kid friendly, this is the way to go.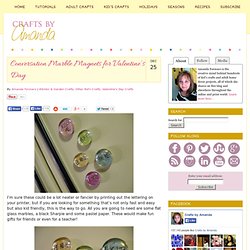 All you are going to need are some flat glass marbles, a black Sharpie and some pastel paper. These would make fun gifts for friends or even for a teacher! Conversation Marble Magnets for Valentine's Dayprintable version Flat glass marble magnets Pastel card stock Black fine point Sharpie Scissors Mod Podge Paintbrush Pencil Small magnets Hot glue gun Write conversation heart sayings on pastel paper, such as hug me, kiss me, be mine, bff, etc. Watch?v=d6egUsZvWu4 from youtube.com - StumbleUpon. Oleg Shuplyak Optical Illusions Paintings - StumbleUpon.
The Chromatic Typewriter - StumbleUpon. The Art of Photography - Jaime Ibarra (12 photos) Snapping shots through the lens of his camera, Jaime Ibarra is always looking for an artistic angle.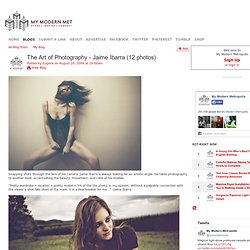 He takes photography to another level, accentuating the beauty, movement, and color of his models. "Pretty wardrobe + location + pretty model = 5% of the the photo, in my opinion. Without a palpable connection with the viewer a shot falls short of the mark. It is a deal breaker for me... " Browser not supported - StumbleUpon. Watch?v=dY1Lr-yGtd8 from youtube.com - StumbleUpon. Sagaki Keita | Colossal - StumbleUpon. (click images for detail) Artist Sagaki Keita was born in 1984 and lives and works in Tokyo.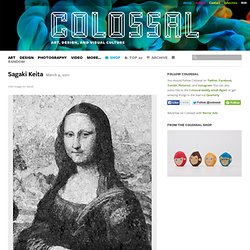 His densely composited pen and ink illustrations contain thousands of whimsical characters that are drawn almost completely improvised. I am dumbstruck looking at these and love the wacky juxtaposition of fine art and notebook doodles. See more of his work here, and be sure to click the images above for more detail. Fly.swf from ntt.co.jp. Bunny Triptych - artwork by Lawrence Yang - StumbleUpon. WATERCOLOR : Marion Bolognesi - StumbleUpon. Kuroshio Sea - 2nd largest aquarium tank in the world - (song is Please dont... Embroidery Designs at Urban Threads - Projects PR28. After ordering, I would walk over to their giant pile of cardboard coffee sleeves, and then toss it away later.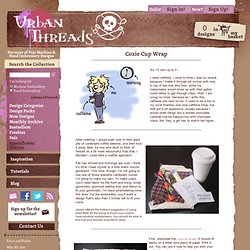 As one who likes to think of herself as a bit more resourceful than that, I decided I could take a craftier approach. Fall has arrived and mornings are cool, I think it's time I treat myself to a little warm mocha goodness. This time, though, I'm not going to use one of those wasteful cardboard cozies. I'm going to make my own. Beautifully Offbeat Photography (13 photos)
Samuel Bradley's photos cannot be neatly categorized.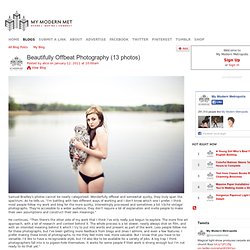 Wonderfully offbeat and somewhat quirky, they truly span the spectrum. As he tells us, "I'm battling with two different ways of working and I don't know which one I prefer. I think most people follow my work and blog for the more quirky, interestingly processed and sometimes a bit 'cliché vintage' photographs. They're accessible to a wider audience, they don't require a lot of explanation and invite people to make their own assumptions and construct their own meanings. " He continues, "Then there's the other side of my work that I think I've only really just begun to explore.
Extraordinary - StumbleUpon. 20 awesome examples of street art. Chell in the Rain - StumbleUpon. Banksy's Biplane Heart Trail. Get.swf?i=003702 from fcmx.net. Kuroshio Sea - 2nd largest aquarium tank in the world - (song is Please dont... - StumbleUpon. Jackson Pollock by Miltos Manetas, original design by Stamen, press any key to s - StumbleUpon.
Balerine12.jpg from wtfpixel.com. Aluminum Can Ornaments. Thank you for visiting Little House in the Suburbs.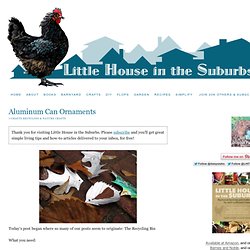 Please subscribe and you'll get great simple living tips and how-to articles delivered to your inbox, for free! Today's post began where so many of our posts seem to originate: The Recycling Bin What you need: Empty aluminum beverage cans Scissors Sandpaper (sanding block is helpful but not necessary, or wrap sandpaper around a bit of wood) Pen or pencil Ribbon or cord for hanging. 0411wallpaper-week-1-6_1600.jpg from nationalgeographic.com - StumbleUpon. Sidewalk chalk guy - StumbleUpon. Home and Garden Puzzles" - StumbleUpon. Little People - A tiny Street Art Collection (1 of 2) | STREET ART UTOPIA - StumbleUpon.
Creative Truths | Ubersuper - StumbleUpon. Creative Truths Nice series called Creative Truths by Shirley-Ann Dick. 28th of September 2010.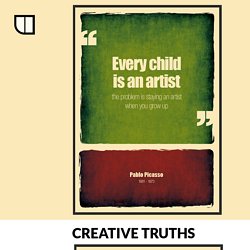 &&&&&&&THEIR CIRCULAR... - StumbleUpon. _56984655_56984654.jpg from bbcimg.co.uk - StumbleUpon. Lorenzo Duran - Designaside.com. Standing Up for Freedom Video - StumbleUpon. Clock - StumbleUpon. INCREDIBOX [ Official website ] - StumbleUpon. Eros y Thanatos. Illusion by =Mavrosh. Dream The Impossible And Catch The Wind by *33M. Hellsing:Integra and Victoria by *starxade. Autumn in my dreams by =Rezzan. Hills and Holes Barnack by *davy59. Roser Oduber. Peliculas Online Subtituladas - Series Online - Free Movies - Peliculas Gratis - Ver Peliculas.
Facebook Iconos - Símbolos facebook - Figuras facebook.
---