Mexican
Do You Know the Muffin Pan?: Muffin Pan Tacos. Christmas Challenge - Day 3 My mom sent my boyfriend and I home with TWO bags of turkey and a coffee carafe filled with turkey soup.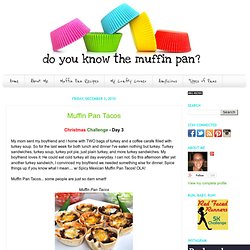 So for the last week for both lunch and dinner I've eaten nothing but turkey. Turkey sandwiches, turkey soup, turkey pot pie, just plain turkey, and more turkey sandwiches. Quick and Easy Taco Dip. If you're looking for a quick and easy appetizer or side dish, give this taco dip a try.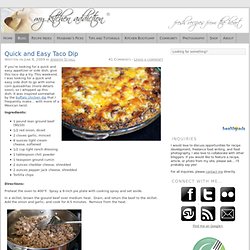 This weekend, I was looking for a quick and easy side dish to go with some corn quesadillas (more details soon), so I whipped up this dish. It was inspired somewhat by the buffalo chicken dip that I frequently make… with more of a Mexican twist. Ingredients: 1 pound lean ground beef (90/10)1/2 red onion, diced2 cloves garlic, minced8 ounces light cream cheese, softened1/2 cup light ranch dressing1 tablespoon chili powder1 teaspoon ground cumin2 ounces cheddar cheese, shredded2 ounces pepper jack cheese, shreddedTortilla chips Directions:
Chicken Enchiladas. Aka the best enchiladas ever!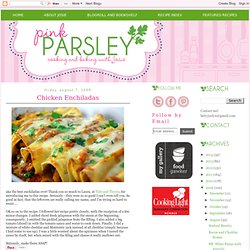 Thank you so much to Laura, at Tide and Thyme, for introducing me to this recipe. Seriously - they were so so good I can't even tell you. So good in fact, that the leftovers are really calling my name, and I'm trying so hard to resist.... OK so on to the recipe.
---