Twitter
Utiliser Twitter pour son business. Réseau social et communauté virtuelle rassemblant quelquesdes dizaines de millions d'utilisateurs, Twitter est une plateforme incontournable du web sur laquelle il est très intéressant d'être présent pour promouvoir son business.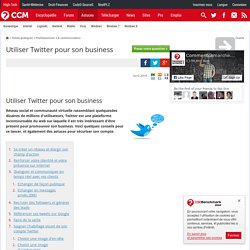 Voici quelques conseils pour se lancer, et également des astuces pour sécuriser son compte. Se créer un réseau et élargir son champ d'action. Twitter. Tweet Level, mesurez votre influence sur Twitter ! /// Agence ma. Retweet, connaître le nombre de retweet d'un de vos tweet. Dès lors que vous utilisez abondamment les réseaux sociaux, il est important de connaître le nombre exact de partage de vos articles.
Des sites de réseaux sociaux tels que Twitter et Facebook sont très utiles pour rendre viral les articles de votre blog. Sur Twitter, pour affirmer qu'un tweet est populaire et viral, il faut nécessairement connaître le nombre de retweets. Follower Wonk: Cool stuff with Twitter bios, stats, and such. Twitalyzer: Serious Analytics for Social Relationships.
Twitterfeed.com : feed your blog to twitter. TwitteRadar. The #1 Twitter stats site powered by Twitter. Twitoaster - the Twitter conversations service. The Standard for Influence. BackType. Free Twitter Backgrounds - Custom Twitter Backgrounds. Qui twitte ? > Le meilleur de Twitter en francais / Annuaire d'utilisateurs, selection d'outils et actualite de Twitter en France. Listorious: Twitter people search and lists directory.
Twitvid - Share videos and photos on Twitter. Twitter Grader. Twitpic - Share photos. ApprendreTwiter.
---