Random shit
Oðblgshezi: Calculator Words
Riddle me this.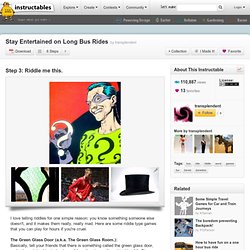 I love telling riddles for one simple reason: you know something someone else doesn't, and it makes them really, really mad. Here are some riddle type games that you can play for hours if you're cruel. The Green Glass Door (a.k.a. The Green Glass Room.): Basically, tell your friends that there is something called the green glass door, and only certain objects (and possibly actions) are allowed inside of it. Give them a few examples like these: you can have a hammer but no nails; you can have a spoon but no fork; books but no words; trees but no leaves; apples but no oranges; moon but no sun; glasses but no eyes; feet but no toes; etc.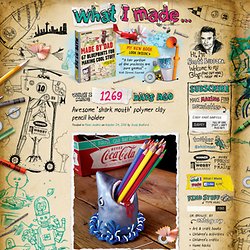 1) Sharks will eat anything… 2) …especially cheese straws. 3) But they love fish the most!
Scary shark mouth container
... gone fishing - imaginechildhood.com | Blog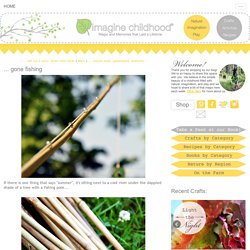 If there is one thing that says "summer", it's sitting next to a cool river under the dappled shade of a tree with a fishing pole... ... the only problem is we didn't have one, so we decided it was the opportunity to make one. Starting with a bamboo garden stake... ... and using some old wine corks for the handle, we quickly got to work.
Air Mail Labels | Flickr – Compartilhamento de fotos!
Preparadas para saber o que aconteceu na semana passada ? Eu tingi lã em casa pela primeira vez ! Sempre tive curiosidade de testar a famosa técnica do suquinho em pó. Pausa para o "coooomo assim, tingir lã com suco ?".
Lã tingida com suco em pó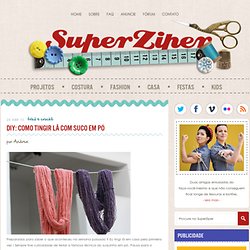 Zipervideo: a bola de lã que não te enrola !
Wow, estou muito feliz em saber que a maioria de você continua tricotando a todo vapor como eu! Obrigada a todas as leitoras que responderam a enquete da semana passada, muitas outras virão e espero que continuem participando. E já que o assunto é tricô, vou aproveitar para passar uma dica simples mas que facilitou muito a minha vida. Todo mundo que faz tricô ou crochê já ficou um tempão tentando desembaraçar lãs de novelos. Aprenda aqui a fazer uma bola de lã rápida, redondinha e que não "enrola" – o segredo é fazer um "8″ que faz o fio sair sempre do centro da bola. Esta técnica é especialmente útil para aquelas lãs que vêm em meadas, como a Paratapet.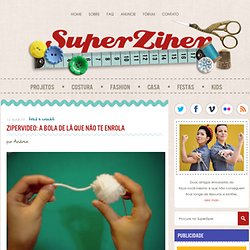 No final de semana resolvi colocam em prática mais um projeto de reciclagem de inverno. Desta vez, ao invés de repaginar uma blusa de lã eu resolvi ir mais a fundo e reciclar a própria lã de peças de tricô. Explico. Eu tinha dois cachecóis de tricô que estavam encostados no armário.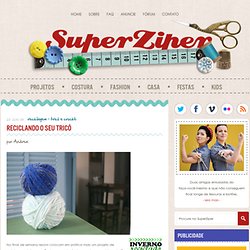 Reciclando o seu tricô
I didn't have a real joystick to study and measure for dimensions, so I went off of pictures I got online. I think I got the proportions pretty close though, just through some basic math like height/width ratios, etc. I purchased one 2 by 4-foot panel of MDF in each of the following thicknesses: 1/4", 1/2", 3/4". I also purchased one 2 by 4-foot sheet of 1/8' hardboard. I had plenty of material left over afterward.
Giant Atari Joystick Lamp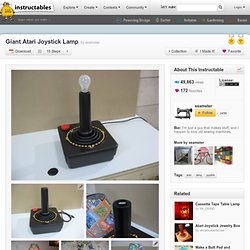 By popular request, an outline version of the pentagon pattern. Made by Atle Mo. Download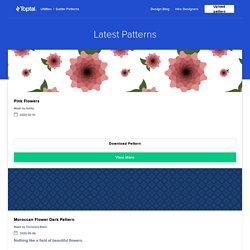 By Future Craft Collective How many times have you been out and about – on the road, at the beach or in the woods with a hankering to get your craft on but no supplies handy? Which always feels like such a shame, since nature, travel or even being stranded in a train station can provide such endless inspiration for your crafty endeavors. What we've discovered in our years of being on the road – both with kids and without, is that an inspired craft kit can provide you with infinite possibilities for creating wherever and whenever you go. Our traveling craft kit is intended to provide endless hours of open ended inspiration.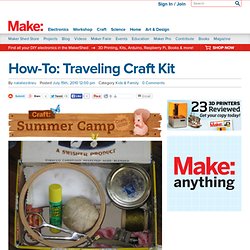 Traveling Craft Kit
Tote your Thinkpad and port your Apple in style with our custom TRON-inspired laptop bag tutorial. With a little soldering and sewing skills you can have your own light up satchel, sure to impress geeky friends. So grab your sewing needle and soldering iron and follow along.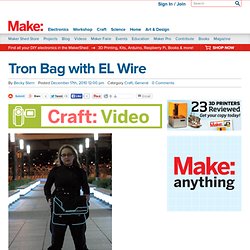 Tron Bag with EL Wire
Project: Kokedama String Garden
The first time I saw a kokedama string garden was right here, on Craftzine. Being a bonsai and ikebana enthusiast, I was captivated by yet another amazingly beautiful Japanese gardening method. I've hung my kokedama outdoors, where it sways a bit in the breeze, and I couldn't love it more. The steps are simple, with the most important aspect being the mixture of clay and soil.
SCP-244 - The SCP Foundation
Item #: SCP-244 Object Class: Euclid Special Containment Procedures: When not in testing, SCP-244-1 is to be placed in a room with its own thermostat, kept at a temperature of no less than 38℃. This room must also have its own ventilation system to provide constant air circulation.
I couldn't resist introducing this post with a shot of our 10" diameter Hibiscus blossom (Hibiscus moscheutos) taken this past summer! After all, this post is designed to give you a few tools for planning your blog posts for the whole year ahead! Why not a picture of coming attractions? My readers in the southern hemisphere are already enjoying summer, so here is what's around the corner in their future! Diane published our third annual Christmas podcast conversation in December during which I mentioned that I usually have most of my blog posts planned a year in advance.
Planning and Organizing Blog Posts for the Year
Stuff Beaders Say
Nintendo DS(NDS) Games,DS(NDS) Roms,DS Movies,game news - Games-Engine.com
Man Crafts: office supply grappling gun
Ever notice how secret agents and spies get all the cool gear? Well, now you can too! Make your own mini grappling hook out of office and household supplies, then let let loose on a top secret mission from Her Majesty's Secret Service. This grappling hook design was built from the new book Mini Weapons of Mass Destruction 2 (Chicago Review Press) by John Austin*. This book has over 30 mini weapons and gadgets which can all easily be built with office or household supplies, most of which I had on hand already!
The Mini Top Hat Tutorial
See Everything | Daily Drop Cap
Bow and Knot
DIY Fake Lashes | Chezlin
{Thursday Thoughts} Notebook Tee Tutorial
How to Make Goo (aka Slime, Gak, or Flubber)
origami Length line Heart