Scottish History
Scotland's Constitutional Timeline
Orkney's Stone Age Temple
Neil Oliver investigates the discovery of a 5,000-year-old temple in Orkney. Built 500 years before Stonehenge, the temple has triggered new thoughts about the beliefs of Neolithic people, turning the map of ancient Britain upside down. The vast site lies undisturbed until now, set within one of the most important ancient landscapes in the world.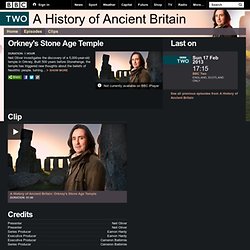 National Museums Scotland
The National Archives of Scotland Home Page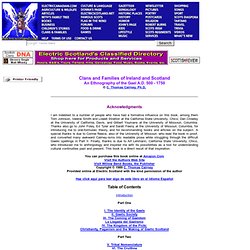 Acknowledgments I am indebted to a number of people who have had a formative influence on this book, among them Tom Johnson, Valene Smith and Lowell Stratton at the California State University, Chico; Dan Crowley at the University of California, Davis, and Gilbert Youmans at the University of Missouri, Columbia. Thanks also go to John Foley, Ed Tyler and Sarah Feeny at the University of Missouri, Columbia, for introducing me to oral-formulaic theory, and for recommending books and articles on the subject. A special thanks is due to Connie Reece, also of the University of Missouri, who read the book in proof, and converted many awkward Cairney-isms into readable prose while struggling through the difficult Gaelic spellings in Part II. Finally, thanks is due to Art Lehmann, California State University, Chico, who introduced me to anthropology and inspired me with its possibilities as a tool for understanding cultural continuities past and present.
Clans and Families of Ireland and ScotlandAn Ethnography of the Gael A.D. 500 - 1750
Scotland's History