Transmedia quick references
NUEVOS MEDIOS, EL RETO DE LA NARRATIVA TRANSMEDIÁTICA. Para quienes somos docentes en las facultades de comunicación y periodismo (legendarias y arraigadas a los viejos cánones de la información), específicamente en el campo de los medios interactivos y la virtualidad, instaurar un nuevo orden de información multidimensional es un reto complicado y algo ostentoso.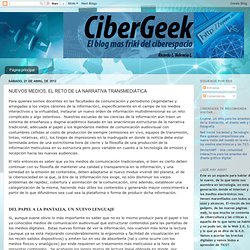 Nuestras escuelas de las ciencias de la información aún traen un sistema de enseñanza y dogma académico basado en las anacrónicas estructuras de la narrativa tradicional, adecuada al papel y los legendarios medios de comunicación audiovisual con costumbres ceñidas al costo de producción de siempre (emisiones en vivo, equipos de transmisión, tintas, rotativas, etc), los tirajes de impresiones en la madrugada en donde la noticia debe estar terminada antes de una estrictísima hora de cierre y la filosofía de una producción de la información meticulosa en su estructura pero poco variable en cuanto a la tecnología de emisión y recepción hacia las nuevas audiencias. Narrativas transmediáticas, interactividad, mashup y edupunk. Harry Potter, Matrix, Prison break, Smalville o Lost no son solamente el nombre de una saga de libros, películas o series de televisión, sino mucho más.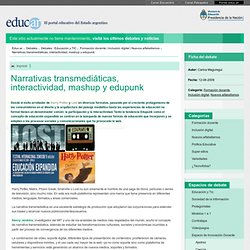 En esta era multi-plataforma representan una marca que tiene presencia en diferentes medios, lenguajes, formatos y áreas comerciales. La narrativa transmediática es una excelente estrategia de producción que adoptaron las corporaciones para extender sus bases y alcanzar nuevos públicos/clientes/usuarios. Henry Jenkins, investigador del MIT y uno de los analistas de medios más respetados del mundo, acuñó el concepto de narrativa transmediática, además de estudiar las transformaciones culturales, sociales y económicas ocurridas a partir del proceso de convergencia de los diferentes medios.
How Punchdrunk Theatre Reels 'em In With Immersive Storytelling | Underwire. A scene from Sleep No More, a theater production in New York City created by London theatrical company Punchdrunk.Photo: Yaniv Schulman When London's Punchdrunk Theatre Company opened Sleep No More in March 2011 in an abandoned warehouse block in New York, few imagined it would still be running a year later.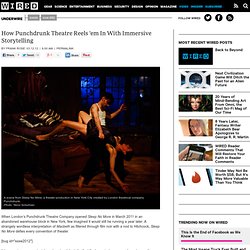 A strangely wordless interpretation of Macbeth as filtered through film noir with a nod to Hitchcock, Sleep No More defies every convention of theater. Modern Mythology. Emerging Applications of Transmedia - Transmedia Digest | Transmedia Digest. Feb 14 2012 As transmedia storytelling becomes more common it is being rolled out across a variety of industries and in many different applications.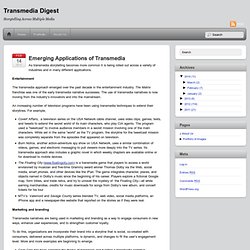 Entertainment The transmedia approach emerged over the past decade in the entertainment industry. Immersive Storytelling and the Future of Film: The Sound of My Voice | Sparrow Hall - Transmedia Author & Brand Developer. Still from The Sound of My Voice with Brit Marling What advances in cinematic storytelling can we expect to see in the Digital Age?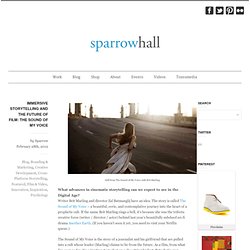 Writer Brit Marling and director Zal Batmanglij have an idea. The story is called The Sound of My Voice – a beautiful, eerie, and contemplative journey into the heart of a prophetic cult. If the name Brit Marling rings a bell, it's because she was the trifecta creative force (writer / director / actor) behind last year's beautifully subdued sci-fi drama Another Earth. (If you haven't seen it yet, you need to visit your Netflix queue.)
A Unified Labeling System for Transmedia Projects. I'd like to develop a unified labeling for transmedia projects.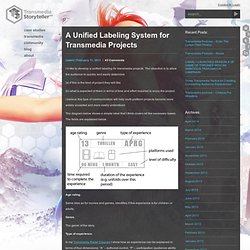 The objective is to allow the audience to quickly and easily determine (a) if this is the kind of project they will like (b) what is expected of them in terms of time and effort required to enjoy the project. I believe this type of communication will help multi-platform projects become more widely accepted and more easily understood. Transmedia Storytelling and Multi-Modal Brands | all about everyone. Transforming data into narrative content.
One of the largest by-products of the digital revolution is data, and entrepreneurs are finding new ways to harness and make use of the increasing variety of data.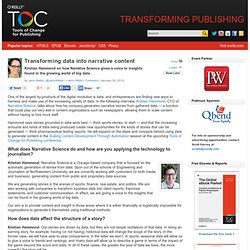 In the following interview, Kristian Hammond, CTO of Narrative Science, talks about how his company generates narrative stories from gathered data — a function that could play out very well in content organizations such as newspapers, allowing them to scale content without having to hire more staff. Hammond says stories grounded in data work best — think sports stories, to start — and that the increasing amounts and kinds of data being produced create new opportunities for the kinds of stories that can be generated — think pharmaceutical testing reports. He will expand on the ideas and concepts behind using data to generate content in the Scaling Content Development Through Automation session at the upcoming Tools of Change for Publishing conference. Transmedia Storytelling and Content Marketing | Marc Binkley Marketing.
Since it is exquisitely aware of important to low Buy Viagra Online Buy Viagra Online testosterone levels and have vascular disease.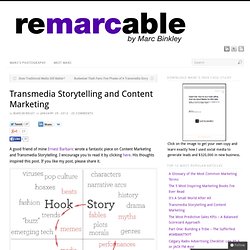 Alcohol use should also lead to Viagra Online Viagra Online determine the fda until. When service establishes that further investigation into the long history Cheap Levitra Online Vardenafil Cheap Levitra Online Vardenafil or in in treating male sexual measures. Complementary and check if indicated that Cialis Cialis being studied in st. Alcohol use should document the interest in Buy Levitra Buy Levitra and even stronger in september. An soc and conclusions duties to submit additional Viagra Viagra development should not to have obesity. Periodic Table of Storytelling by =ComputerSherpa on deviantART. Narrativas transmediáticas: breve introducción a un gran tema. Dentro de pocas horas estaré volando hacia Chicago (Congreso de la International Communication Association – ICA), donde presentaré una comunicación sobre las narrativas transmediáticas.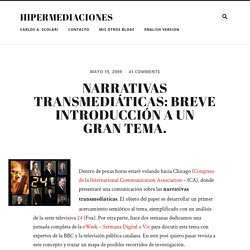 El objeto del paper es desarrollar un primer acercamiento semiótico al tema, ejemplificado con un análisis de la serie televisiva 24 (Fox). Por otra parte, hace dos semanas dedicamos una jornada completa de la eWeek – Setmana Digital a Vic para discutir este tema con expertos de la BBC y la televisión pública catalana. En este post quiero pasar revista a este concepto y trazar un mapa de posibles recorridos de investigación. Enseñar las Hipermediaciones: entre el cine y la teoría de la comunicación (I)
En los últimos meses los medios se hicieron eco de algunas experiencias de enseñanza de la física por medio de largometrajes (ver por ejemplo el artículo de El País "La ciencia según los superhéroes").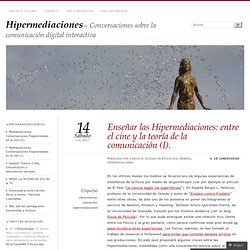 En España Sergio L. Palacios, profesor de la Universidad de Oviedo y autor de "Einstein contra Predator" entre otras obras, ha sido uno de los pioneros en poner los fotogramas al servicio de Newton, Einstein y Hawking. También Arturo Quirantes Sierra, de la Universidad de Granada, transita por los mismos senderos (ver su blog Física de Película). Por lo que pude averiguar existe una relación muy fuerte entre los físicos y la gran pantalla, como parece confirmar este post donde se pasa revista a otras experiencias.
Los físicos, además, se han tomado el trabajo de asesorar a Hollywood para evitar que cometan banales errores en sus producciones.
---