Transmedia projects
branded entertainment Posted by Mark J. Miller on June 8, 2012 04:38 PM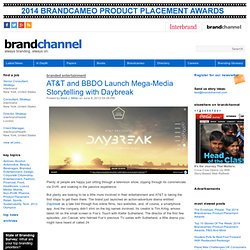 AT&T and BBDO Launch Mega-Media Storytelling with Daybreak
Secret Location Combines Gaming, Interactivity, and Telephony With Mysterious Film "The Sevens"
When visiting the website of a creative company, the expectation is to find some contact information and selections of work and/or a demonstration of just how desperately social-media-savvy the proprietors are. When you visit the site of Secret Location and a phone starts ringing, however, you know something altogether different is going on. Clicking on the persistently ringing phone initiates a multi-layered narrative experience that seamless combines short film, interactivity, and gaming. Dubbed The Sevens, the experience is the centerpiece of Toronto-based interactive agency Secret Location's relaunched website and is designed to surprise and entertain while showcasing the extent of the company's skills.
If you've ever read Neal Stephenson's postcyberpunk epic The Diamond Age, you'll know there's a moment where a young actress pays several years' salary for a surgery. It places millions of dots at spots on her skin--dots that would allow computers to track the intricacies of expression in a digital realm, to allow her to act as any avatar. Clouds, an experimental film by James George and Jonathan Minard, shows that Stephenson's vision of the future was a bit wrong.
In Filmmaking Now, Directors Become Programmers And Programmers Become Gods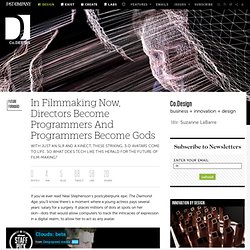 So you think exercise is an excruciating test of willpower over the drudgery of treadmills, crowded gyms and sweaty t-shirts? So do we! That's why we need Rundercover, a thrilling interactive audio-game. Or, how a Swiss startup starts out to make your outdoor exercises more fun and rewarding. In the mobile app "Rundercover", you as the runner become the hero of an epic secret agent story.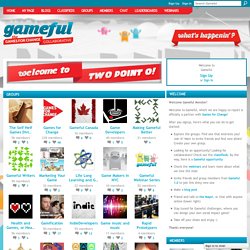 Playing With the Monster: How to Build a Successful Trans-media Project | Ida BRINCK-LUND
Rating: 5.0/5 (1 vote cast) Art of Crime developed a total cross-media strategy from scratch AND designed the whole platform for a trans-media expansion BEFORE launch. Their test launch last year showed a unique potential, and the Scandinavian MMO launch this summer has proven it is scalable now with over 80 thousand Crimevillains and hundreds joining every day. But hey!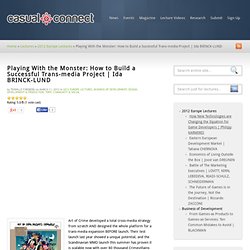 Rexford Higgs, in the video above, is just one of many characters with which you will be able to interact as if they were real people in The Miracle Mile Paradox, an alternate reality game (ARG) set in a historic neighborhood of Los Angeles. The game will run for 14 weeks this summer and will be playable both online and in real life for free! It's simple! All the "in game" characters like Rex will have websites, Facebook pages, Twitter accounts, even phone numbers, which you can read, follow and call as you discover pieces of the story.
The Miracle Mile Paradox ARG by Transmedia LA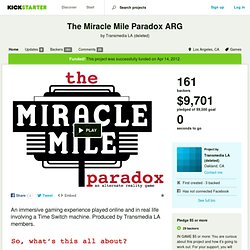 We Dream of Nothing
The Karada
After being rebuffed by the girl of his dreams, David Blunt seeks second, third and fourth chances with her various alter egos that he's found through a rift in the walls of the multiverse. Recognizing that Wattpad is to text what Youtube is to video, the creators of All Your Fates plan to push the envelope by running the serialized novel like a TV series: with a cabal of guest writers, special scenes scored with music, key actors cast, and chapters set in real life locations for cross-promotional partnerships. The fictional story will also have plenty of Easter Eggs for hard-core fans who want a richer more immersive experience to hunt down. If a website is mentioned in the story, the website will actually live online for some fun fictional bonus content.
Traditionally, there were three main types of distribution for the work of independent filmmakers: theatrical, broadcast and straight to DVD. Most filmmakers hoped for a combination of all three. But everything has changed.
MediaShift . How New Platforms, Streaming Media Change the Equation for Indie Filmmakers
SOUND OF MY VOICE
report from Trieste, where we held a workshop on the redesign of the city's urban communication system Back in Cava de Tirreni for a workshop: we will build our own sustainable energy source in the woods, and we will use it to disseminate ubiquitous information in nature A workshop in Trieste to re-imagine the city's signage using visual thinking and ubiquitous technologies. Design of the information architecture of the city and its interfaces. AOS, Art is Open Source won the 13th Interactive Media Key Award for the digital nuclear energy campaign created with Greenpeace International in Montpellier for the 2012 edition of Information Visualization conference, telling how it is possible to transform the digital lives of cities in usable knowledge for citizens and administrations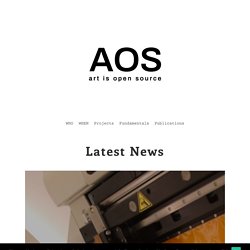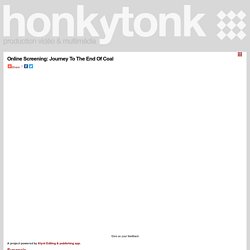 A project powered by Klynt Editing & publishing app. Journey To The End Of Coal tells you the story of a sacrifice. A sacrifice millions of Chinese coal miners are making everyday, risking their lives and spoiling their land to satisfy their own country's appetite for economic growth. Your journey begins in Datong which is located just a couple hours away West from Beijing.
Transmedia Lab | Home
Layla Revis is vice president of digital influence at Ogilvy PR Worldwide. Her specialties include international affairs, tourism and multicultural marketing. In 2011, Sundance Film Festival created The New Frontier Story Lab, an initiative created to foster the development of a new style of media production. As media began to depart from traditional, linear films intended for a passive audience, the launch represented an innovative new era in entertainment.
0 hrs 1 hrs 2 hrs
Pandemic 1.0 —
No girlfriend? No life? No problem!Dive into the world of an aging bachelor desperate for love as he wrestles with his inner angel and devil while pursuing a variety of women who are definitely not interested.Watch now The warped world of consumer advertising Hit the hill, live the life A hypnotic cycle of images Discover new releases and uncover hidden gems from our collection of documentaries, animation and interactive projectsRead Now New place, new hopes, new trials
Historias sobre Transmedia – Nick dut Nik – Programa Completo
Panzer Chocolate
The company P
Nick dut nik - web kultura & teknologia
Minoria Absoluta
COLLIDER reaches Irish cinemas this January After being presented at some of the most prestigious European Cinema Festivals in London, Geneva and Galway, COLLIDER, an Irish sci-fi movie, arrives in Ireland this January 10th. Beat Girl nominated for the Kidscreen Awards as Best TV Movie
beActive
Que es Transmedia
Tranxmedia conference gives us a new opportunity to imagine and start building the future of audiovisual storytelling. This second edition of Tranxmedia conference gives us the opportunity to meet international and local transmedia experiences. Tishna Molla, COO of Power to the Pixel will present the most relevant projects being developed internationally. Following, we will introduce a recent lab-project known as TranXlan, carried out on september in San Sebastian. Also, in the afternoon, we will hold a workshop, using the basque activity "Korrika" (which we will explain what is about) as a theme.
TRANXMEDIA | Summit
Reframing Mexico
Algorithm-Powered Movie whiteonwhite:algorithmicnoir Computes at Sundance | Underwire