Transmedia projects
AT&T and BBDO Launch Mega-Media Storytelling with Daybreak. Branded entertainment Posted by Mark J.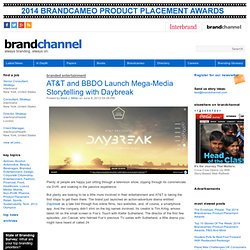 Miller on June 8, 2012 04:38 PM. Secret Location Combines Gaming, Interactivity, and Telephony With Mysterious Film "The Sevens" When visiting the website of a creative company, the expectation is to find some contact information and selections of work and/or a demonstration of just how desperately social-media-savvy the proprietors are.
When you visit the site of Secret Location and a phone starts ringing, however, you know something altogether different is going on. Clicking on the persistently ringing phone initiates a multi-layered narrative experience that seamless combines short film, interactivity, and gaming. Dubbed The Sevens, the experience is the centerpiece of Toronto-based interactive agency Secret Location's relaunched website and is designed to surprise and entertain while showcasing the extent of the company's skills. In Filmmaking Now, Directors Become Programmers And Programmers Become Gods.
If you've ever read Neal Stephenson's postcyberpunk epic The Diamond Age, you'll know there's a moment where a young actress pays several years' salary for a surgery.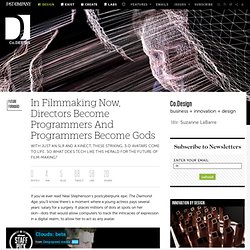 It places millions of dots at spots on her skin--dots that would allow computers to track the intricacies of expression in a digital realm, to allow her to act as any avatar. Clouds, an experimental film by James George and Jonathan Minard, shows that Stephenson's vision of the future was a bit wrong. Gameful | Gameful Landing Page. Playing With the Monster: How to Build a Successful Trans-media Project | Ida BRINCK-LUND. Rating: 5.0/5 (1 vote cast) Art of Crime developed a total cross-media strategy from scratch AND designed the whole platform for a trans-media expansion BEFORE launch.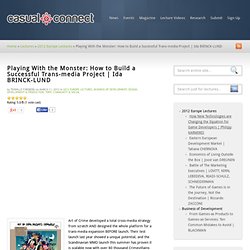 Their test launch last year showed a unique potential, and the Scandinavian MMO launch this summer has proven it is scalable now with over 80 thousand Crimevillains and hundreds joining every day. But hey! The Miracle Mile Paradox ARG by Transmedia LA. Rexford Higgs, in the video above, is just one of many characters with which you will be able to interact as if they were real people in The Miracle Mile Paradox, an alternate reality game (ARG) set in a historic neighborhood of Los Angeles.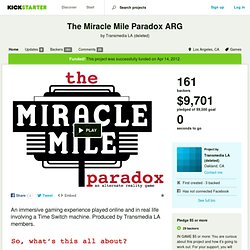 The game will run for 14 weeks this summer and will be playable both online and in real life for free! It's simple! All the "in game" characters like Rex will have websites, Facebook pages, Twitter accounts, even phone numbers, which you can read, follow and call as you discover pieces of the story. We Dream of Nothing. The Karada. How New Platforms, Streaming Media Change the Equation for Indie Filmmakers. Traditionally, there were three main types of distribution for the work of independent filmmakers: theatrical, broadcast and straight to DVD.
Most filmmakers hoped for a combination of all three. But everything has changed. Punchdrunk. The Wilderness Downtown. SOUND OF MY VOICE. Take This Lollipop. Art is Open Source, augmented reality, knowledge, hacking, art. Online screening: Journey To The End Of Coal. A project powered by Klynt Editing & publishing app.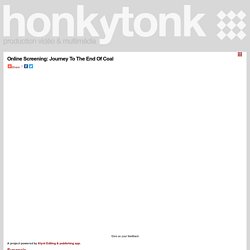 Journey To The End Of Coal tells you the story of a sacrifice. A sacrifice millions of Chinese coal miners are making everyday, risking their lives and spoiling their land to satisfy their own country's appetite for economic growth. Your journey begins in Datong which is located just a couple hours away West from Beijing. Transmedia Lab | Home. Your Best Photo Stories - Photojournalism and Social Documentary – Pictory. 4 Inspiring Examples of Digital Storytelling. Layla Revis is vice president of digital influence at Ogilvy PR Worldwide.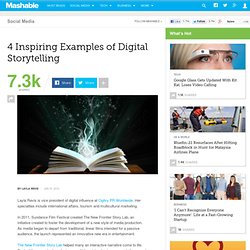 Her specialties include international affairs, tourism and multicultural marketing. In 2011, Sundance Film Festival created The New Frontier Story Lab, an initiative created to foster the development of a new style of media production. As media began to depart from traditional, linear films intended for a passive audience, the launch represented an innovative new era in entertainment. Pandemic 1.0 — Watch Documentaries and Animated Films Online - NFB.ca. Interactive - Bear 71. Welcome to Pine Point. ROME. Historias sobre Transmedia – Nick dut Nik – Programa Completo.
Panzer Chocolate. The company P. Nick dut nik - web kultura & teknologia. Minoria Absoluta. BeActive. Que es Transmedia. Havas Digital. TRANXMEDIA | Summit. Collapsus: The Energy Risk Conspiracy. Reframing Mexico. Algorithm-Powered Movie whiteonwhite:algorithmicnoir Computes at Sundance | Underwire. A scene from the computer-powered film whiteonwhite:algorithmicnoir.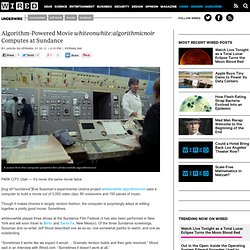 PARK CITY, Utah — It's never the same movie twice. [bug id="sundance"]Eve Sussman's experimental cinema project whiteonwhite:algorithmicnoir uses a computer to build a movie out of 3,000 video clips, 80 voiceovers and 150 pieces of music. Though it makes choices in largely random fashion, the computer is surprisingly adept at editing together a pretty good movie. Sometimes.
---