Curaduría Digital
The New Rules of Content Creation & Curation - MyTechOpinion.com
Yesterday at the Googleplex, journalists, technologists and Googlers converged for the TechRaking summit. Our goal was to figure out how to break news of its bad habits lingering from the pre-Web era. We compared notes about our own organizations, shared examples of stories and projects, and dreamed up ways to serve you better. Here's what we've got so far.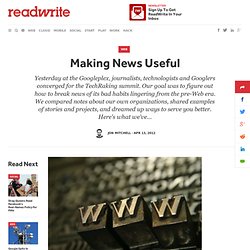 Making News Useful
A Brief History of Curating New Media Art | The Green Box
Rethinking Curating
Shel Holtz: Smarter Curation for Enterprises
Shel Holtz has more than 35 years' experience of organisational communications, in in-house and consulting roles with mostly Fortune 500 companies. He is a Fellow of the International Association of Business Communicators (IABC), the author or co-author of numerous books in the communications arena, and a frequent speaker. These days he is principal of Holtz Communication + Technology, helping enterprises communicate better in the online space. One of his focus areas is watching how the social world uses online technologies, and applying that in enterprises to improve internal and external communications.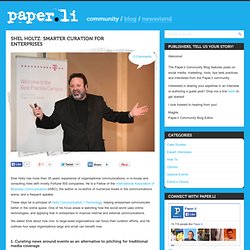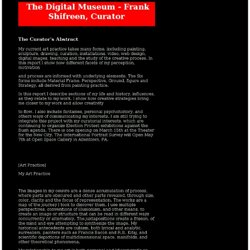 The Digital Museum - Curator's Abstract
The Curator's Abstract My current art practice takes many forms, including painting, sculpture, drawing, curation, installations, video, web design, digital images, teaching and the study of the creative process. In this report I show how different facets of my perception, motivation and process are informed with underlying elements. The Six forms include Material Frame, Perspective, Ground, figure and Strategy, all derived from painting practice. In this report I describe sections of my life and history, influences, as they relate to my work.