language
Get flash to fully experience Pearltrees
The Conlang Flag, a symbol of language construction created by subscribers to the CONLANG mailing list which represents the Tower of Babel against a rising sun [ 1 ] A planned or constructed language —known colloquially as a conlang —is a language whose phonology , grammar , and/or vocabulary has been consciously devised by an individual or group, instead of having developed naturally . There are many possible reasons to create a constructed language: to ease human communication (see international auxiliary language and code ), to give fiction or an associated constructed world an added layer of realism, for linguistic experimentation, for artistic creation , and for language games .
The Proto-Human language (also Proto-Sapiens , Proto-World ) is the hypothetical most recent common ancestor of all the world's languages . The concept of "Proto-Human" presupposes monogenesis of all recorded spoken human languages.
The Rosetta Stone is an ancient Egyptian granodiorite stele inscribed with a decree issued at Memphis in 196 BC on behalf of King Ptolemy V . The decree appears in three scripts: the upper text is Ancient Egyptian hieroglyphs , the middle portion Demotic script, and the lowest Ancient Greek .
The Voynich manuscript , described as "the world's most mysterious manuscript", [ 3 ] is a work which dates to the early 15th century (1404–1438), possibly from northern Italy. [ 1 ] [ 2 ] It is named after the book dealer Wilfrid Voynich , who purchased it in 1912. Some pages are missing, but the current version comprises about 240 vellum pages, most with illustrations.
Die Plansprache Lojban [ ˈloʒban ] (Sprachcode nach ISO 639 -2: jbo ) wurde 1987 von der Logical Language Group entwickelt. Sie basiert auf der ebenfalls künstlichen Sprache Loglan . Bei der Entwicklung wurde besonderer Wert darauf gelegt, eine benutzbare, möglichst umfassende und frei verfügbare Sprache zu schaffen.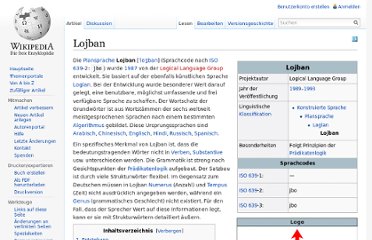 The principle of linguistic relativity holds that the structure of a language affects the ways in which its speakers conceptualize their world, i.e. their world view , or otherwise influences their cognitive processes . Popularly known as the Sapir–Whorf hypothesis , or Whorfianism , the principle is often defined as having two versions: (i) the strong version that language determines thought and that linguistic categories limit and determine cognitive categories and (ii) the weak version that linguistic categories and usage influence thought and certain kinds of non-linguistic behaviour. The term "Sapir–Whorf Hypothesis" is a misnomer, as Edward Sapir and Benjamin Lee Whorf never co-authored anything, and never stated their ideas in terms of a hypothesis.