biases
Get flash to fully experience Pearltrees
Cryptomnesia occurs when a forgotten memory returns without it being recognised as such by the subject, who believes it is something new and original.
Many cognitive biases have been demonstrated by research in psychology and behavioral economics .
The optimism bias (also known as unrealistic or comparative optimism ) is a bias that causes a person to believe that they are less at risk of experiencing a negative event compared to others.
In modern psychology , cognitive dissonance is the feeling of discomfort when simultaneously holding two or more conflicting cognitions : ideas, beliefs, values or emotional reactions. In a state of dissonance, people may sometimes feel "disequilibrium": frustration, hunger, dread, guilt, anger, embarrassment, anxiety, etc. [ 1 ] The phrase was coined by Leon Festinger in his 1956 book When Prophecy Fails , which chronicled the followers of a UFO cult as reality clashed with their fervent belief in an impending apocalypse. [ 2 ] [ 3 ] Festinger subsequently (1957) published a book called A Theory of Cognitive Dissonance in which he outlines the theory. Cognitive dissonance is one of the most influential and extensively studied theories in social psychology.
Inattentional blindness , also known as perceptual blindness , is failure to notice an unexpected stimulus that is in one's field of vision when other attention-demanding tasks are being performed.
Hindsight bias , also known as the knew-it-all-along effect or creeping determinism , is the inclination to see events that have already occurred as being more predictable than they were before they took place. [ 1 ] It is a multifaceted phenomenon that can affect different stages of designs, processes, contexts, and situations. [ 2 ] Hindsight bias may cause memory distortion, where the recollection and reconstruction of content can lead to false theoretical outcomes. It has been suggested that the effect can cause extreme methodological problems while trying to analyze, understand, and interpret results in experimental studies. A basic example of the hindsight bias is when, after viewing the outcome of a potentially unforeseeable event, a person believes he or she "knew it all along."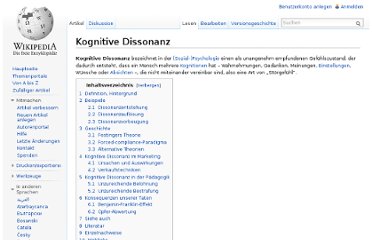 Kognitive Dissonanz bezeichnet in der (Sozial-)Psychologie einen als unangenehm empfundenen Gefühlszustand, der dadurch entsteht, dass ein Mensch mehrere Kognitionen hat – Wahrnehmungen, Gedanken, Meinungen, Einstellungen , Wünsche oder Absichten –, die nicht miteinander vereinbar sind, also eine Art von "Störgefühl". Definition, Hintergrund [ Bearbeiten ]
Trait ascription bias is the tendency for people to view themselves as relatively variable in terms of personality , behavior and mood while viewing others as much more predictable in their personal traits across different situations. [ 1 ] More specifically, it is a tendency to describe one's own behaviour in terms of situational factors while preferring to describe an other's behaviour by ascribing fixed dispositions to their personality. This may occur because peoples' own internal states are more readily observable and available to them than those of others.
In social psychology , the fundamental attribution error (also known as correspondence bias or attribution effect ) describes the tendency to overestimate the effect of disposition or personality and underestimate the effect of the situation in explaining social behavior. The fundamental attribution error is most visible when people explain the behavior of others. It does not explain interpretations of one's own behavior—where situational factors are more easily recognized and can thus be taken into consideration.