My favorite mods
9pre5 & 1.8.1] Single Player Commands [V2.13] Single Player Commands (SPC) Version 4.9 for Minecraft 1.6.2 If you're looking for a server, or need to contact me, currently the best place is through this PvP survival server: pvp.darkmines.net.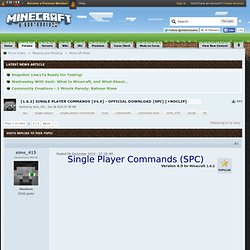 Download Automated Installation [COMING SOON]Click here for a video tutorial on how to use the installer. 8.1] MAtmos r6 - Environmental sound atmosphere simulator. This looks really, really cool, but I'm having trouble installing it.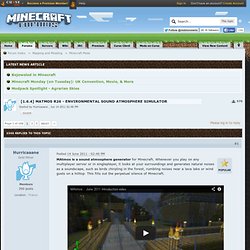 Can anyone give me some advice? I'm on a mac, and I'm stuck on the second step of "Put the contents of the folder .minecraft into (Operating system Roaming folder)/.minecraft/" First, I'm not sure what or where my .minecraft folder is, second, I can't find the .dat files. If someone could point out what I'm missing, I'd be really grateful, since it's probably blatantly obvious what I'm doing wrong.
---