Videos
Shocking, underground videos from theync for free - Daily Media, Humor, Shocking Videos, Rape Videos, slaughter, disturbing videos adult content please be aware. Theync underground vidoes for free
Videos Tenebrosos
100+ Sites to Watch TV Online
Banned From YouTube - We have the Videos that they don't want you to see!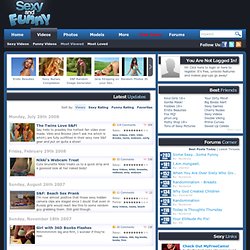 Sexy and Funny Videos
Monday, July 28th 2008 Say hello to possibly the hottest fan video ever made. Vikki and Brooke (don't ask me which is which) are fully outfitted in their sexy new S&F gear and put on quite a show! Friday, February 29th 2008 Cute brunette Nikki treats us to a quick strip and a goooood look at her naked body!
Vimeo, Your Videos Belong Here
Best Videos @ Firecold.com
Caught | Caught.com