Manga Online Websites
1-2) Don't be Cruel, Please & Don't be Coldhearted, Please"In exchange for me keeping your secret, take off your pants." Maya saw Nemugasa's sudden impulse to cheat (like on a test). In return for keeping silent, Maya makes various demands, but… The bookworm Nemugasa and the playboy Maya's perversions, impatience, and pure-hearted love. 3) Houkago no HimitsuSequel to one of the side stories in Tsuyogari.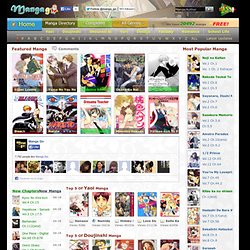 Update Fastest-Read Free Yaoi Manga Series Online At Manga-go
Manga Here - Read English Manga Free Online. Manga is Here!
Read Manga - Mangable
Good Manga
Manga Reader
City Manga
Anime A (Manga) - This is a good site too ♥
Manga Fox - Best Manga Site ♥