Crochet
Trick Co - la Compagnie du Yarn Bombing.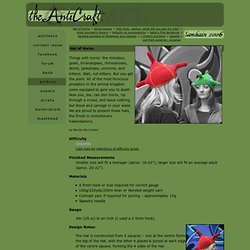 Hat of Horns Things with horns: the minotaur, goats, triceratopses, rhinoceroses, devils, jackalopes, unicorns, and kittens. Wait, not kittens. But you get the point. All of the most ferocious predators in the animal kingdom come equipped to gore you to death. Now you, too, can don horns, rip through a crowd, and leave nothing but blood and carnage in your wake.
¡The AntiCraft!
Recycled Plastic Fat Bottom Bag  | My Recycled Bags.com
I present my plarn fat bottom bag that I crocheted using recycled plastic newspaper bags. You may remember me saying that it is difficult for me to obtain pretty colors in plastic bags for my crafting. Well thanks to a suggestion from a blogger friend, I asked my local library to save their newspaper bags for me. They have been giving me one pink and one orange plastic bag daily from their newspapers. Anyway I saved up the plastic bags and crocheted my first fat bottom bag.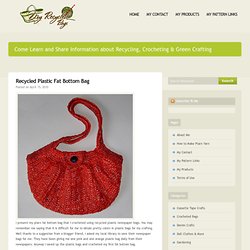 le cri de la lotte
communaute tricot et artistes
Crochet Alien LGM Inspired by Toy Story
This hasnt been tested..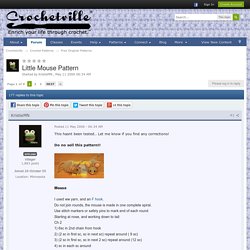 Little Mouse Pattern
Crocheted Leaves - for the Naked Branch -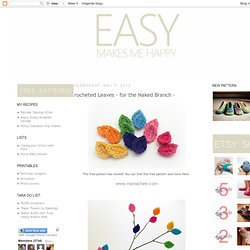 My good deed for the day - I clothed a poor little naked branch (scroll down to see and read about it) and I feel very good about it. I was feeling rather gloomy today because of the cold snowy day (that's right - snow on May 5th) but helping out a naked branch did my heart good. I hope you will enjoy this charity project and love will spread to many lonely naked branches and twigs around the world. My finished leaves measure about 1 1/2" long and 1" wide Materials: E hook Worsted weight yarn - I used Cascade 220 wool in 7 pretty colors.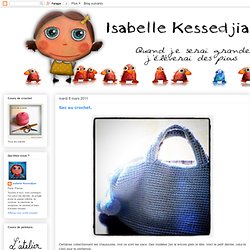 Certaines collectionnent les chaussures, moi ce sont les sacs. Des modèles j'en ai encore plein la tête. Voici le petit dernier, celui-là c'est pour le printemps.
Laines.be
Mésange noire
filer au rouet sans stress.
Filer au rouet sans stress ... c'est possible.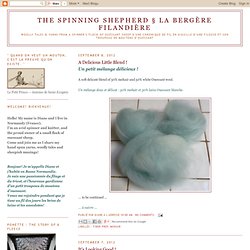 De la Toison au Tricot n° 115 " Travailler une toison aux mèches courtes "
The Spinning Shepherd § La Bergère Filandière
© Photo Carole Ventura L'origine du crochet est incertaine. Les théories s'affrontent sur le fait de savoir s'il est né en Chine -on y trouve très tôt des poupées réalisées au crochet-, au Pérou -on retrouve sa trace en Amérique du Sud où certaines tribus primitives utilisaient des parures au crochet dans les rites de la puberté-, en Tunisie, en Egypte ou au Royame du Danemark.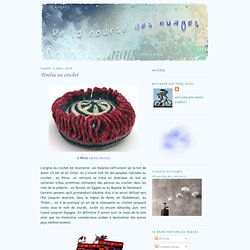 accessoires de mode en laine citronnelle eglantine / Mode
Samedi 17 avril, C'est bien connu, avoir un aquarium chez soi contribue à créer une atmosphère apaisante... et en plus, pour peu que l'on aime les poissons autrement que panés, ça peut être joli... On s'assoit sur le canapé et on regarde ses poissons tourner en rond ou en carré (tout dépend de la forme du bocal), pendant des heures, et on devient zen, zen, zen ! Ok, avoir un aquarium chez soi, c'est donc génial ! Mais on oublie trop souvent les nombreux désagréments qui pourront finir par vous rendre zinzin au point de vouloir faire frire vos poissons : 1°- Changer l'eau de l'aquarium, c'est pénible !
Warm Yourself Handmade Knit & Crochet Designs by warmYourself
A Crochet Ninja
qui l'a découverte en 1998 au Mali, elle est en plastique, mesure 24cm et fait pouêt-pouêt quand on la presse. à l'époque. Comme avant chez nous, comme en Afrique présentement, pas l'homologation. A vous, parents, de veiller au principal petit danger qui peut être le bouchon-sifflet qu'elle a sur la tête et qui fait le son du pouêt-pouêt, car les enfants ont vite fait de l'enlever.
Facteur Shop
Time for another tutorial! I made this lineup of baby monsters for my Basic Amigurumi class at The Knitting Nest . I think they're a pretty good beginner project because it teaches how to start crochet in the round, how to single crochet, how to increase, and basic construction and customization of amigurumi.
Home PomPom Pillow from Living with Punks . Dip-Dye Lamp and Pillow from Design Sponge .
Si vous êtes sur Paris, (j'ai commandé la bonne humeur et le soleil!!), je serai à "l'Atelier" pour une séance de dédicace de Granny Folies! Crédit photo l'Atelier Je ne cache pas ma joie de découvrir cette boutique, car ce sera ma première fois là bas ... de 10h00 à 12h00, n'hésitez pas à apporter vos encours, vos questions, vos crochets! 15 entrées Gratuites pour le Salon " Pour l'Amour du Fil" à Gagner!
Selon le fil utilisé, le résultat est complètement différent. Mes premiers essais ont été faits en Super Kid Mohair. J'ai également testé le Mohair, le Kid Mohair, le coton et le mélange laine/acrylique. Les plus beaux résultats on été obtenus avec la Super Kid Mohair. Pour ce tuto j'ai utilisé un fil non poilu pour que les points soient bien visibles. N'hésitez pas à cliquer sur les photos pour les agrandir.
Le blog de Fleurdeslunes -
Le Petit Magazine de Noël ♥ Part II | My Little Fabric