Réseaux Sociaux
Twitter. Twitter Marketing Strategy: 5 Steps. So you want to succeed with Twitter eh?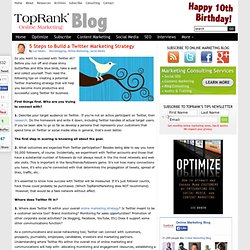 Before you run off and chase shiny butterflies and little blue birds, take a seat and collect yourself. Then read the following tips on creating a potential Twitter marketing strategy that will help you become more productive and successful using Twitter for business. First things first. Twitter en chiffres. Facebook. Bouton "Like" / "J'aime" et plugins sociaux: Facebook obtient le. Ce billet est l'explication technique détaillée associé à son billet jumeau "Boutons "J'aime" et plugins sociaux: le deal déséquilibré proposé par Facebook aux éditeurs de sites" qui analyse les immenses avantages tirés par Facebook de l'implantation du bouton Like ("J'aime") et autres plugins sociaux sur des sites web tiers.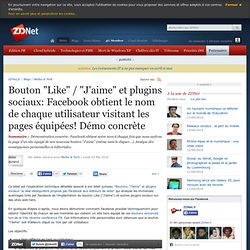 En quelques étapes ci-après, nous allons démontrer comment Facebook procède techniquement pour obtenir l'identité de chacun de ses membres qui visitent un site tiers équipé de ces boutons annoncés lors de la très récente conférence F8. Ces informations très personnelles sont obtenues que le bouton "J'aime" soit d'ailleurs cliqué ou non par cet utilisateur. Les objectifs: Infos / chiffres / astuces. Facebook. How to Create a Facebook Fan Page Editorial Guide | Social Media. Facebook Fan Pages are popping up in record numbers.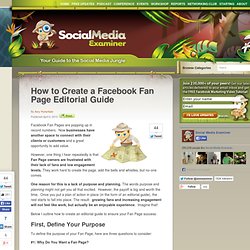 Now businesses have another space to connect with their clients or customers and a great opportunity to add value. However, one thing I hear repeatedly is that Fan Page owners are frustrated with their lack of fans and low engagement levels. They work hard to create the page, add the bells and whistles, but no-one comes. One reason for this is a lack of purpose and planning. Retrouver le créateur d'une fanpage sur Facebook | Blog perso de. Posted on | avril 15, 2010 | 10 Comments Cette méthode ne fonctionne plus et je n'ai pas de solution à vous proposer sur la nouvelle version de facebook.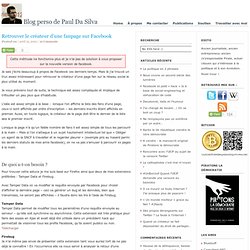 Je sais j'écris beaucoup à propos de Facebook ces derniers temps. Mais là j'ai trouvé un truc assez intéressant pour retrouver le créateur d'une page fan sur le réseau social le plus utilisé du moment. Je vous préviens tout de suite, la technique est assez compliquée et implique de trifouiller un peu plus que d'habitude. Eight cool social media infographics | Blog. Yesterday I noticed quite cool infographic being passed around online.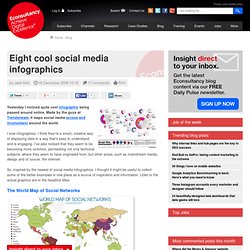 Made by the guys at Trendstream, it maps social media access and involvement around the world. I love infographics. I think they're a smart, creative way of displaying data in a way that's easy to understand and is engaging. I've also noticed that they seem to be becoming more common, permeating not only technical subjects, where they seem to have originated from, but other areas, such as mainstream media, design and of course, the internet. So, inspired by the newest of social media infographics, I thought it might be useful to collect some of the better examples in one place as a source of inspiration and information. The 10 Stages of Social Media Business Integration. Brian Solis is a principal at new media agency FutureWorks.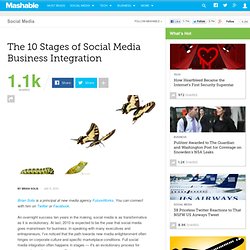 You can connect with him on Twitter or Facebook. An overnight success ten years in the making, social media is as transformative as it is evolutionary. At last, 2010 is expected to be the year that social media goes mainstream for business.
---