Resources
Shapeways. How to Make Container Candles. Contributed by Alan Wallace, Peak Candle Making Supplies Essentially, a container candle is a non-flammable container filled with wax and a wick.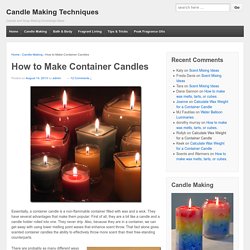 They have several advantages that make them popular: First of all, they are a bit like a candle and a candle holder rolled into one. They never drip.
Nook. The Owner's List - A list of our friend's businesses. News.
---