Sewing
Fabric KeyChains. Ever dig into the depths of your purse trying to find your car keys, while simultaneously juggling groceries and a wiggly toddler?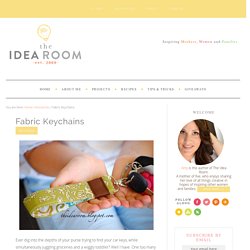 Well I have. One too many times. Today I would love to share with you how to make these fabric keychains that can be worn around your wrist for easy access. Lined Paper Tee by Maybe Matilda. I'm pretty dang excited to be guest posting on Ucreate, of all places, with an easy and fun project for you.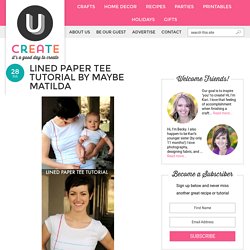 Just in time for heading back to school, I came up with this cute top: A little about me first . . . My name is Rachel, and I blog over Maybe Matilda. I'm from small-town New York, currently living in Utah with my soon-to-be-chiropractor husband and our soon-to-be-one-year-old son. How to Weave on a Cardboard Loom. June 25th, 2008 Email 1322 users recommend Weaving like this can be the basis for so many projects: place mats, coasters, bags, hats—use your imagination.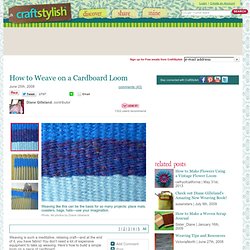 All photos by Diane Gilleland. 20 Crafty Ways To Use Up Fabric Scraps : Posted on | November 8, 2008 | 2 Comments My grandmother always had a mountain of fabric scraps.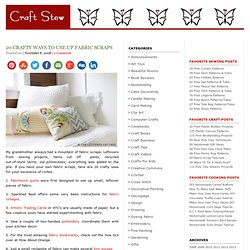 Leftovers from sewing projects, hems cut off pants, recycled out-of-style skirts, old pillowcases; everything was added to the pile. If you have your own fabric scraps, here are 20 crafty uses for your excessive of riches. 1. Tutorial Tuesday: Owl Army from Moonstitches. OMG, this is the cutest Tutorial Tuesday ever…or should I call it ?
Whatever we call it, I'm sure you'll agree that this owl tutorial from MOONSTITCHES is just so adorable and that you'll want to snap it up and hug it and squeeze it and make a million of little owls. I know I do….I want to make my own adorable stuffed owl army! Alex from MOONSTICHES put together this really well done tutorial, which was inspired from a pattern she found in a book (info on the front page of the tutorial). Since Alex does not share the pattern from the book, you can buy the book (although it's in Japanese) or come up with your own pattern and use Alex's tutorial as an inspiration for your own owl. Sewing tutorial | KIDS | crafts | handmade gifts | bread bags | fort kits | diy hang tags | saltwater-kids.
Boys, boys, boys.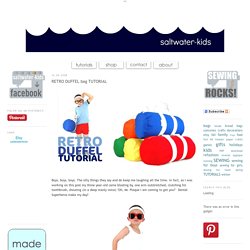 The silly things they say and do keep me laughing all the time. In fact, as I was working on this post my three year-old came blasting by, one arm outstretched, clutching his toothbrush, shouting (in a deep manly voice) "Oh, Mr. Plaque I am coming to get you! " Dental Superheros make my day! My favorite part of making this tutorial, by far, was the photo shoot.
TUTORIAL :: SOCKS OWL | WHIMSY LOFT. This is a very simple Tutorial to make a Sock Owl.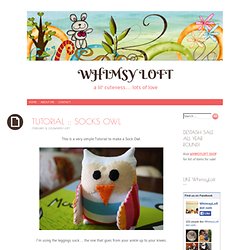 I'm using the leggings sock… the one that goes from your ankle up to your knees. See photos below from left to right. Measure 5″ from the rubber and cut. I Really Wish I Could Sew | Pioneer Woman Home & Garden. A sweet friend of mine sent the girls and me a box of adorably adorable owl pillows this week.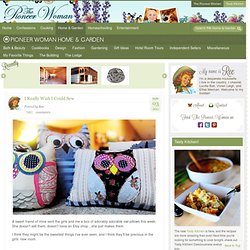 She doesn't sell them, doesn't have an Etsy shop…she just makes them. I think they might be the sweetest things I've ever seen, and I think they'll be precious in the girls' new room. DIY: Letter Pillows. I mentioned on Sunday that I took a trip to San Diego for my cousin's 1st birthday party over the weekend.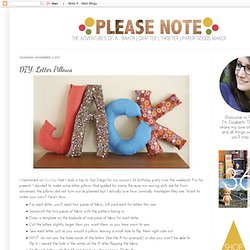 For his present, I decided to make some letter pillows that spelled his name. Because my sewing skills are far from advanced, the pillows did not turn out as planned but I actually love how comically misshapen they are. DIY Gift Ideas # 4 :: Whimsical Pillows... The week hasn't exactly been going as planned but things seem to have calmed down now.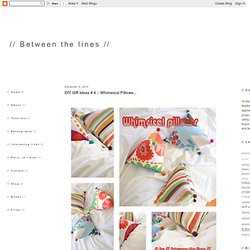 I hope. I didn't forget about the promise I made earlier this week - the only problem was finding half an hour to get my act together (and half an hour of good light as well). And I did today! So, here's our most fantastic pillow ever! My girls' very favorite (and mine as well) totally whimsical triangular shaped pillow (this is actually the simpler version of a pillow I made a little while back but which didn't make it to the blog yet, somehow). Sewing Tutorial: Piggy Pillow.
As promised, I have completed the tutorial and the pattern for the "Be My Valentine – Piggy Pillow", which was published 3 weeks ago. This time I made a pair for my kids, they love it. You may not be able to do it in time for this valentine but as I said, if you have love in you, everyday is valentine. Hope you sew some for your loved ones no matter if it is Feb 14. Diy: sock bunnies | stuff steph does. Last week while I was in Toledo installing Mason's letters and taking fanatical pictures of his cheese dip at lunch, my mom had made these adorable little sock bunnies. I thought they were too cute not to share on here! She saw the idea on pinterest and made her way to lil blue boo's blog that has a fabulously detailed step-by-step. Elephant Family Plush Toy. Happy Elephant Family – Toy Sewing PatternSewing Pattern: Download pattern here.Materials: Make: 1 Material indicated for small elephant is in bracket [ ] 1.
Fabric (stripes), 8″ x 18″ [4" x 9"] 2. Fabric (orange), 6″ x 10″ [3" x 5"]. 3. Ribbon, 4″ [4"] 4. Embroidery Floss (grey) 5. Elephant Doll. Owls. Owls have been popping up everywhere in stores, on fabric, in the trees outside my house... I first saw the pattern on Billie Monster months ago and have been wanting to make this little cute thing ever since.
(You can download the pattern over on Hammer & thread.) I finally had an excuse when I was invited to a friends baby shower recently. How to Make a Camera Strap from a Scarf. How to sew a mini bunny sachet. 25 Patchwork Crafting Ideas | The New Home Ec. How to Make a Double-Sided Camera Strap Cover « From our Front Porch. Tutorial: Patchwork Floor Pillow. How to make cute bookmarks.
---