Holidays
DIY: Elegant Craft Stick Trees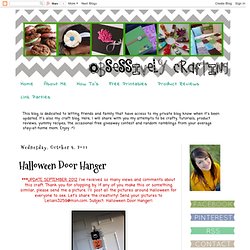 Obsessively Crafting: Halloween Door Hanger
*** UPDATE SEPTEMBER 2012 I've received so many views and comments about this craft. Thank you for stopping by. If any of you make this or something similar, please send me a picture. I'll post all the pictures around Halloween for everyone to see. Let's share the creativity! Send your pictures to Leilani3259@msn.com.
I'm not sure how I discovered this awesome collection of packaging templates but I'm glad I did! Some professor or student at a japanese univeresity was nice enough to share all their packaging templates with the world! These are a few of my favorites and you can see all of them on their website .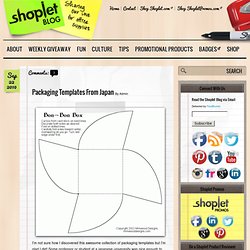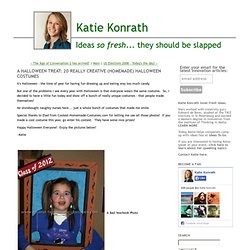 It's Halloween - the time of year for having fun dressing up and eating way too much candy.
Ideas so fresh--they should be slapped!: A Halloween Treat: 20 Really Creative (Homemade) Halloween Costumes
tutorial: fabric ornament
I swear I saw this made somewhere online! But I have searched high and low and can't seem to find a tutorial anywhere. So here is my version [using Heather Bailey fabric], it's a great way to use up all those fabric scraps.
I am sorry to say I have no new pieces available just yet. But I have been working on a few custom orders I will post soon! This time of year is kind of busy, so I have not been working as much as I should! It might be a little selfish of me, But I have been working on some of the cutest Christmas decorations for my own house! I would like to share, what I would like to think, as the most fabulous tree skirt known to man!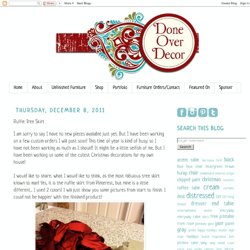 Ruffle Tree Skirt
I don't know what it's like in your neighborhood, but when I step outside here in Oakland, I sense it right away: Fall is in the air! I'm lucky enough to have a few turning trees on my street, so I don't miss out entirely on the brilliant autumn colors I remember from growing up in NH. Speaking of brilliant autumn colors, I'm thrilled to share this stunning maple leaf rose bouquet DIY from a fellow Kate — clay, fiber and paper artist Kate Hust . Kate first learned how to make these a few years ago from a retired art teacher in her community, and now they've become an annual tradition when fall rolls around.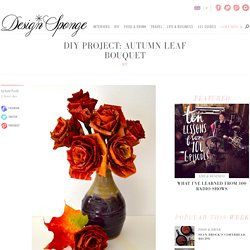 As Kate so delicately alluded to earlier this week, I am somewhat of a holiday junkie. And Christmas is the holiday of all holidays for me. I decorated a week before Thanksgiving; yep, I'm one of those people. One of my most favorite holiday traditions as a child was our little family advent calendar and now that my kids are old enough to enjoy some fun and creative activities, I've filled up our little numbered stockings with slips of paper instead of candy.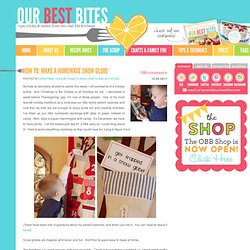 ombre wreaths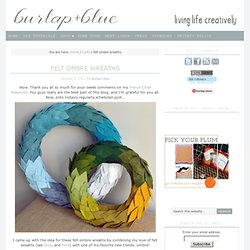 Wow. Thank you all so much for your sweet comments on my French Chair Makeover . You guys really are the best part of this blog, and I'm grateful for you all. Now, onto today's regularly scheduled post… I came up with the idea for these felt ombre wreaths by combining my love of felt wreaths (see here , and here ) with one of my favorite new trends…ombre! To create these felt ombre wreaths, I used wool felt purchased from Etsy , as well as two straw wreaths (12″ and 8″).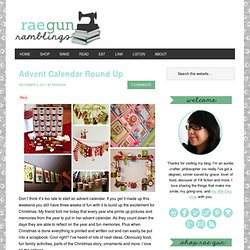 Advent Calendar Round Up
Don't think it's too late to start an advent calendar. If you get it made up this weekend you still have three weeks of fun with it to build up the excitement for Christmas. My friend told me today that every year she prints up pictures and memories from the year to put in her advent calendar. As they count down the days they are able to reflect on the year and fun memories. Plus when Christmas is done everything is printed and written out and can easily be put into a scrapbook. Cool right?
Weekend DIY: Make Your Christmas Tree
I love the smell of pine on Christmas but ah well, cutting the trees down to have them inside isn't the best we can do for the forest, is it! Unless you use a live Christmas tree, which you can later plant in your garden, or you gather fallen or broken branches thus helping clean the forest, you will not be extremely green. But you can always use your imagination and create unusual, unexpected and over-exciting Christmas tree out of almost anything! You will need some wooden rails and hot glue for this one.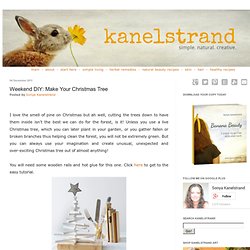 a quick and fun project.
Those of you who follow me on Twitter probably know that Jordan has gone home to Virginia for the rest of the week (sadface). I've made a To-Do list of all the things I'd like to get done (and keep busy with). Among updating some blog features and prepping my shop for a Black Friday/Cyber Monday sale, I'm hoping to make some Christmas decorations. I've been browsing the internet for a couple days and there are some great ideas out there that I can't wait to try!
DIY Christmas Decoration Tutorials