Felt Projects
My Owl Barn: DIY: Owl Brooch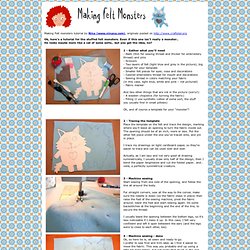 3 - Machine sewing Start sewing from one side of the opening, and follow the line all around the body. For straight corners, sew all the way to the corner, make sure the needle is down (so the fabric stays in place) then raise the foot of the sewing machine, pivot the fabric around, lower the foot and start sewing again. Do some backstitches at the beginning and the end of the line, to secure the thread. I usually leave the opening between the bottom legs, so it's less noticeable if I mess it up. In this case, I felt very confident and left it open betweent the ears (and the legs were to close to each other, too).
Felt Fortune Cookie How-To 1. Using fabric shears, cut a 4 1/2-inch-diameter circle from a piece of felt. Cut a piece of matching ribbon slightly shorter than 4 1/2 inches.
Felt Fortune Cookies - Martha Stewart Holidays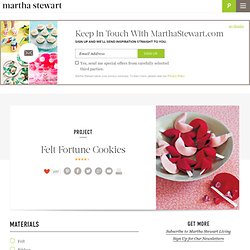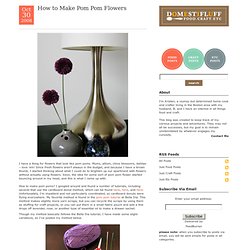 I have a thing for flowers that look like pom poms. Mums, allium, chive blossoms, dahlias – love 'em! Since fresh flowers aren't always in the budget, and because I have a brown thumb, I started thinking about what I could do to brighten up our apartment with flowers without actually using flowers. Soon, the idea for some sort of pom pom flower started bouncing around in my head, and this is what I came up with.
I've been a bit obsessed with felt flowers for the last few years. It started when my sis asked me to make her wedding bouquet and 3 bridesmaids bouquets. I posted a tutorial on how I made her bouquet that you can see here . I'm so glad I got to create something so important for my sis's wedding. It was such a wonderful labor of love. I've gotten so many comments on that post asking how to make the actual flowers that I wanted to post this felt flower tutorial.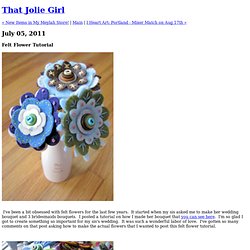 That Jolie Girl: Felt Flower Tutorial
Ready-To-Stitch Alphabet Sampler Sublime Stitching
Think of samplers as an old form of data storage; long before pattern books came into existence, samplers were circulated as a means of recording and exchanging patterns and techniques, and antique specimens can be found at markets or online. But what if you want something a little more modern, or want to develop some needlework chops and make your own? When a fan asked Jenny at Sublime Stitching if she has a ready-to-stitch sampler pattern, she had to think a second before answering, "do I ever." Order any Sublime Stitching alphabet sheet and instead of forming words, leave the sheet intact and transfer the whole thing onto fabric. Demi towels are a good size for samplers and fit in a standard 11x14" frame.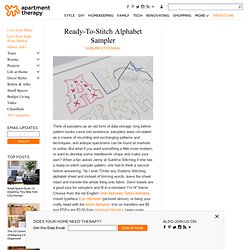 An army of Boobeloobies « handsome things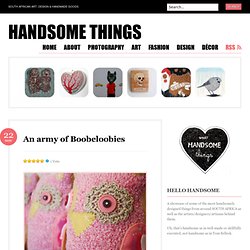 i 1 Vote I stumbled on Wilmarie Viljoen's plushies on the Etsy South Africa page on Facebook and contacted her to tell us more about her Boobeloobies. (yes that sounds strange) What is your background? I grew up in Pretoria in now live in Noordheuwel in Krugersdorp, Jhb with my husband Johan and my little boy of 2 ½ years named Wian.
fabric fridge letters « Spearmint Baby