Tech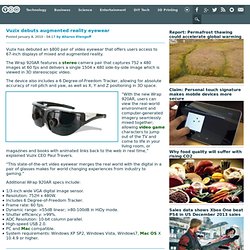 Vuzix has debuted an $800 pair of video eyewear that offers users access to 67-inch displays of mixed and augmented reality. The Wrap 920AR features a stereo camera pair that captures 752 x 480 images at 60 fps and delivers a single 1504 x 480 side-by-side image which is viewed in 3D stereoscopic video. The device also includes a 6 Degree-of-Freedom Tracker, allowing for absolute accuracy of roll pitch and yaw, as well as X, Y and Z positioning in 3D space. "With the new Wrap 920AR, users can view the real-world environment and computer-generated imagery seamlessly mixed together; allowing video game characters to jump out of the TV and come to life in your living room, or magazines and books with animated links back to the web in real time," explained Vuzix CEO Paul Travers. "This state-of-the-art video eyewear merges the real world with the digital in a pair of glasses makes for world changing experiences from industry to gaming." Additional Wrap 920AR specs include:
Vuzix debuts augmented reality eyewear
For most of us here in Gizland, technology and gadgetry have become central to our very existence. Given the huge advances seen in recent years, where will be ten years from now? Frog Design has been doing some serious pondering on this very subject and has recently presented a vision of what our increasingly computer-centric lives might be like in the year 2020. The folks at Frog Design should be already be familiar to regular readers of Gizmag. An inspired vision for an Intel point-of-sale kiosk was featured last year and before that Motorola benefited from numerous ideas for wearable electronics . They've now looked into a digitized crystal ball to offer a vision of life in 2020.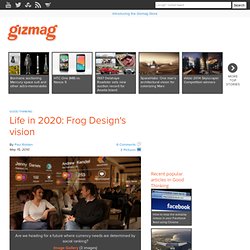 Life in 2020: Frog Design's vision
A personal air vehicle or PAV , also personal aerial vehicle , is a class of light general aviation aircraft which meets design and performance goals intended to make flying as commonplace as driving. NASA , in 2005, refined the definition of a PAV in the fifth Centennial Challenge initiative, which it funds in conjunction with the CAFE Foundation . [ edit ] Basic premise The fundamental premise of this technology is to make a reduction in the skills required to operate an aircraft. The goal being a "highway in the sky" scenario where an individual is able to fly from point to point with the ease of driving an automobile. [ edit ] A new mode of transportation
Personal air vehicle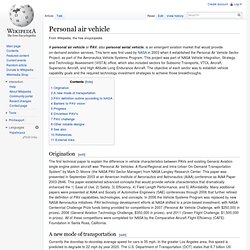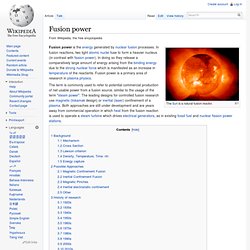 The Sun is a natural fusion reactor. Fusion power is the power generated by nuclear fusion processes. In fusion reactions two light atomic nuclei fuse together to form a heavier nucleus (in contrast with fission power ). In doing so they release a comparatively large amount of energy arising from the binding energy due to the strong nuclear force which is manifested as an increase in temperature of the reactants. Fusion power is a primary area of research in plasma physics .
Force field
electronic contact lenses