PORTFOLIOS/ PROJECTS
Polarity Bit - Polarizziamo l'attenzione sul tuo messaggio
Michael Arnold - Illustration + Design
Hi, I'm JJ Ying. IconMoon is my online portfolio. I specialize in pixel-perfect icon & interface design. I live in Shanghai, China and currently work at Baidu as a Senior GUI designer. My works showed up in: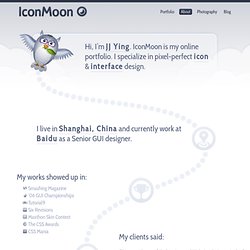 About // IconMoon - Online Portfolio of JJ.Ying
Archive | Our work | Rethink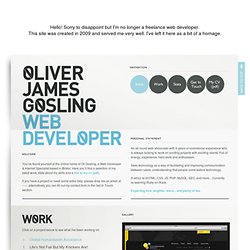 You've found yourself at the online home of Oli Gosling, a Web Developer & Internet Specialist based in Bristol. Here you'll find a selection of my latest work, stats about my skills and a link to my cv (pdf). If you have a project or need some extra help, please drop me an email at -----, alternatively you can fill out my contact form in the Get In Touch section. An all round web aficionado with 6 years of commercial experience who is always looking to work on exciting projects with exciting clients. Full of energy, experience, hard work and enthusiasm. Sees technology as a way of facilitating and improving communication between users, understanding that people come before technology.
giulio iacchetti industrial design Noè – Alessi – 2014 Orte – Internoitaliano – 2013 Bis – Alessi – 2013
Giulio Iacchetti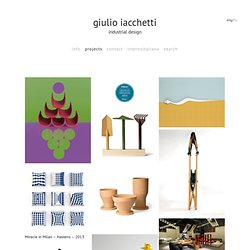 Tondo — uno studio a tutto tondo
TRIANGLE
Alexander Gellner Illustration | Motion Design | Sequential Art | Gellnerism
Andrea Panarese
>>>ARIANE SPANIER GRAPHICDESIGN<<<
Wing Cheng | Graphic and Web Designer
Team | Amazee Labs
selected works | Dadomani Studio
Kiosk
Convax Solutions | Convax Solutions is an Indian company that provides high quality webdesign, branding, mobile and web development services.
Alessandro Contini / portfolio
Postmammal
About Postmammal Kin Mobile Method Design Lab Basis
— Charley Harper Prints
Authorized Dealer* of Limited and Open Edition Serigraphs, Lithographs and Giclées Please browse our large selection of original artwork including an exceptional inventory direct from the artist's estate. Inside you will find over six decades of art!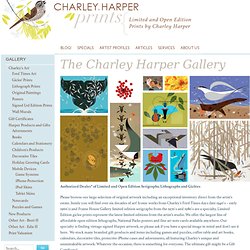 Paul Rogers
Studio D'Urbino Lomazzi
mucca
Siminki - Designer and front end web developer based in Manchester. (Simon Marshall)